I should probably stop pretending that these actually happen on the first of the month. I do have a giveaway for you all for December. This time it's courtesy of Sarah at
Creature Comforts Craftworks
.
Isn't it pretty?
What you would be getting is 50g (half a skein) of her lovely merino/nylon/stellina (for that extra sparkle!) sock yarn in the colorway "Decadent". That's a little over 200yds of soft, glittery goodness. 75% superwash merino, 20% nylon, and 5% stellina.
I hope you'll go take a look at
Sarah's shop
to see all the other lovely things she makes as well. Her fiber is lovely, too.
To enter this giveaway I'd like everyone to take inspiration from the colorway and tell me what they do in December that's just a little
decadent
. Something you do to treat yourself, take a little break, get away from it all. December is stressful in a lot of ways, whether it's holidays, family, the end of the academic year, finishing projects for this year and preparing for the next, etc etc etc. In the northern hemisphere the days are getting shorter and seasonal affective disorder can start setting in. So, tell me, what's something you like to do that helps you take a little break from whatever is getting you down? And if nothing is getting you down, how do you celebrate feeling good?
To take a break from all my worries, I like to watch a fun movie and knit something easy. To celebrate feeling good, I like cranking up some music from my heedless youth and dance around like a loon... until I run out of breath in 30sec because I am ridiculously sedentary, and then I sit down again, but it's fun while it lasts!
I'll let this run through Saturday, Dec 17th and have the randomizer pick a winner on the 18th (and
the group
if you'd like to double your chances). So tell me, what do you do?
Meanwhile, I have been knitting some ornaments and I figured it's a timely topic for this blog. I've admired knit ornaments for a while, the kind that cover a plastic or glass ball, and so I experimented a little with some sock mini-skeins and came up with 2 super simple patterns.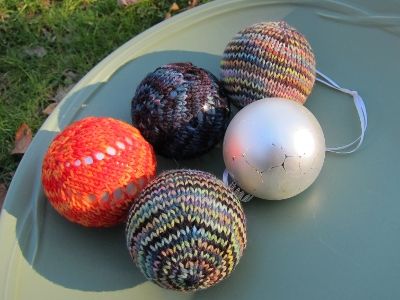 One useful thing is that sometimes ornaments age in storage and look awful once they're brought out again. The white ball I covered with the Happy New Year colorway is starting to shed its frosting like the uncovered one in the picture above. It has strange discolorations and some of the finish is flaking off. Covering up makes that a non-issue.
Follow the jump for more pics and the patterns.