Sometimes I get really tired and discouraged, depressed, frustrated. But sometimes, sometimes things click.
This has been a very busy week, and it's not getting any less busy any time soon. I didn't cook dinner tonight because I had to finish updating the shop so I could finish working on my page for the
Fiber Cooperative
.  14 colorways went up in the shop, I have another dozen or so to photograph yet, and the end of this week is full of dyeing and sample making.  Meanwhile, tomorrow I'll hold another give-away, and then there's the holiday weekend coming up.
I hit 400 sales this month, another little milestone.  Even with a package missing in the mail, even with several lackluster advertising attempts this month and the bills they generated, I look around and feel proud of my accomplishment this week, and it's
good
to feel good about this and about myself.
And tonight, as I was editing pictures, I got this: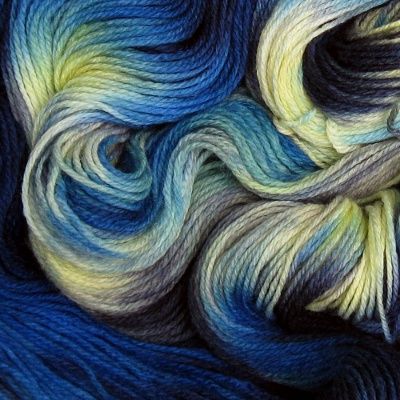 This is the colorway Starry Night and it is the most perfect example of a desire turned into reality that I have ever managed with my yarn.