It's not yet midsummer, but this month's theme for the June Phatfiber box has arrived right in the middle of some mid-summerly heat and humidity.
Before I get into the glories of the box, however, here's a picture of a visitor to our carport this afternoon. I don't know why it was in the middle of our carport instead of wandering amongst the trees.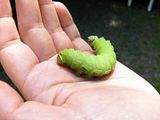 It looks like a luna moth caterpillar to me. I put it in the ground cover out of the way and hopefully it's made its way safely to wherever it was going.
Now, on to the box! Lots of beautiful and large! samples this month.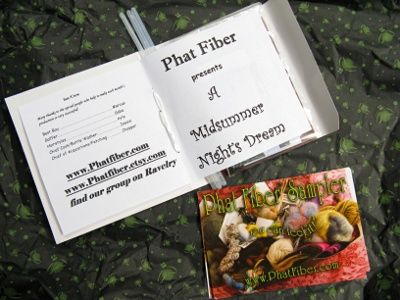 This was the great "program" Jessie sent in the box to hold the cards and such.
Pictures of the box contents and shop links after the jump.
In no particular order, A Midsummer Night's Dream Phatfiber style!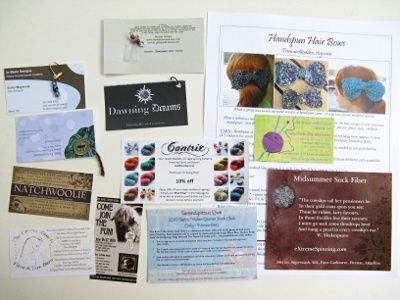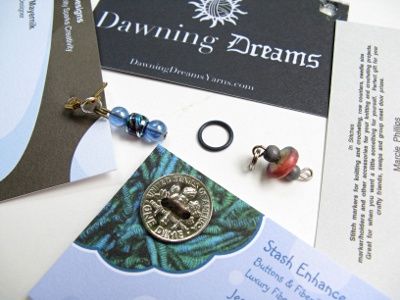 Cards and coupons from
eXtremeSpinning.com
;
Wooliebullie
;
The Critter Ranch
;
Natchwoolie
;
Cantrix
;
Serendipitous Ewe
In-Skein Designs
- a removable stitch marker with blue beads.
Dawning Dreams
- a soft blue stitch marker
In Stitches
- a stitch marker with wooden beads.
Stash Enhancement
- a button made from a dime.
Treasure Goddess
- a hair bow pattern.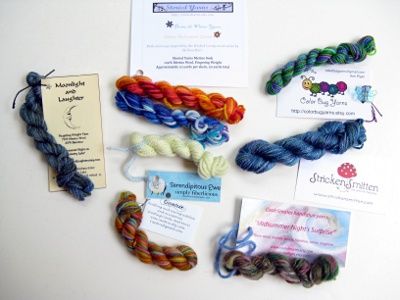 Serendipitous Ewe
- superwash merino in "Lime".
Stricken Smitten
- merino/silk "A Midsummer Twilight".
Moonlight and Laughter
- merino/bamboo "Midsummer Night on Cranberry Lake".
Color Bug Yarns
- superwash merino "A Midsummer Night's Dream".
Coolclimates
- wool/mohair/tencel/bamboo/ramie/angelina handspun "Midsummer Night's Surprise".
Cantrix
- superwash merino/nylon "Peaseblossom".
Storied Yarns
- merino "Donia, the Winter Queen" and "Aislinn, the Summer Queen".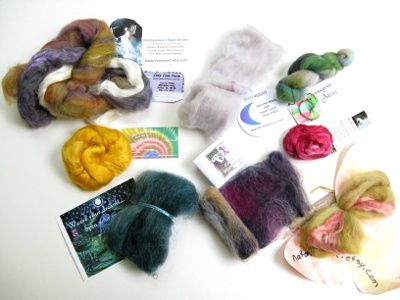 Cozy Cove Farm
- alpaca/bamboo/rambouillet/firestar and white and black bamboo "Mid-Summer's Night Dream".
Silver Sun Alpacas
- bamboo (golden yellow).
Bitsy Knits Fiber Arts
- cashmere/kid mohair/bamboo/seacell/angelina/firestar/llama/superwash merino "A Midsummer Night's Dream".
Mama Jude's Plant Dyed Stuff
- merino/plant dyed milk fiber "Moonlight". (I don't spin and I still totally wanted this one!)
Avalon Springs Farm
- mohair roving "Midsummer Night's Dream".
Spinnerette Fibers
- merino "Water Nymph".
Natchwoolie
- bfl & milk "Elves & Fairies".
Wild Hare Fiber Studio
- mulberry silk top "English Rose".
And in other things,
a Phatfiber Treasury!
It's a Treasury Main so it will vanish on Saturday. :)