Time to cook! And if you haven't yet, check out
my June 1 post
for the yarn giveaway. :)
Tonight we're having a sort of "white" burrito composed of grilled pork that's been slivered, a white bean concoction, white rice, and white extra sharp cheddar. This comes from the fact that it's a bit warm and very humid and I'd rather not steam up the house. Add to this leftover grilled pork that needs to be eaten, wheat tortillas in the freezer, and leftover rice, and it all sort of comes together into this: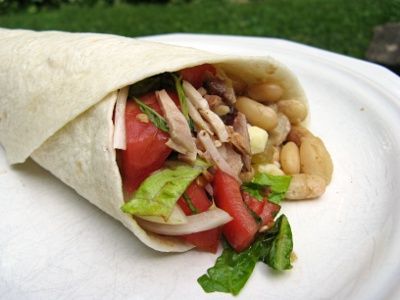 The discerning will note that there's no rice in this picture. There isn't any rice in my "not burrito" either, and it doesn't need it. I feel no guilt.
The experiment today was cooking the beans in the rice cooker. I soaked a pound of Great Northern beans in the refrigerator overnight, and I put them in the rice cooker with enough water to cover by a scant half inch. Added salt, cracked pepper, a bay leaf, a pinch of thyme, and about a half teaspoon of ground cumin and then took it outside and turned it on. I checked after about an hour, perhaps a little more. They were cooked tender, the bottom was starting to sizzle and brown and stick to the pot, and there was no pooling liquid. So I consider this a successful experiment. The rice cooker didn't turn itself off automatically because the water/weight situation doesn't match that of rice so it still needs checking and manually turning off.
I unplugged the pot and let the beans cool covered while I sauteed some crushed garlic, chopped red onion (look, color!) and celery which I then stirred into the beans for some extra savoriness, and I just left everything on the counter to cool down to room temp. Normally, I'd leave the celery raw but we've presently got a tooth challenged member of the household, so things have to be tweaked a little to make them less resistant to chewing. Thus the slivered pork, as well.
No avocados today, so a side of chopped romaine lettuce (just a couple leaves kicking around the refrigerator), tomatoes, about 1/4 of a Vidalia onion thinly sliced since the last one we had was too sharp, cilantro and mint for a salad/relish. Dressed that with just a bit of olive oil and nothing else.
The pork felt a little dry, so I dressed it with a bit of olive oil and rice wine vinegar. Lime juice would've been preferred but I didn't have any. The cheese is crumbled with a small knife as extra sharp crumbles readily and I don't like cleaning the food processor for something so small. There's plain whole milk yogurt for those who want it, but I didn't think it needed it.
It's not really a burrito, although it's masquerading as one. And it's a very pale meal! But it's quick and easy, doesn't heat up the house much, and uses up leftovers. And I wish I could convey just how tasty it all is. I consider this a success!