Once again the realization that lots to blog about means not enough time to blog percolates to the fore. This weekend, I knit in public for the first day of World Wide Knit in Public day(s); I noticed that there was the annual mass exodus of toadlets from our pond; and I went cherry picking and once again demonstrated my passionate devotion to
Prunus cerasus
or the sour cherry.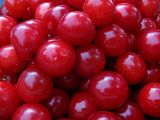 They're like jewels. I can't resist them.
I'd best get on with this before it's Monday! (Oh well, I tried!)
Exhibition
First up, WWKIP day! I drove up to Ridgewood, NJ and spent the day with an old friend. We sat in the outside area of a Starbucks and chattered on for hours as we knit. We did speak to a few people who seemed interested, and one very pleased woman who was excited to see someone else who does this craft.
I
twitpic-ed
from the Starbucks, but here is photgraphic evidence: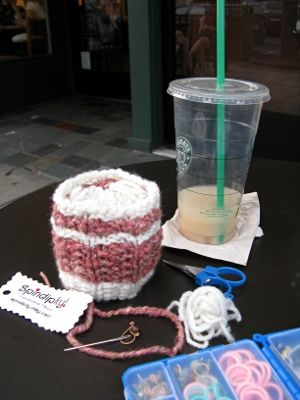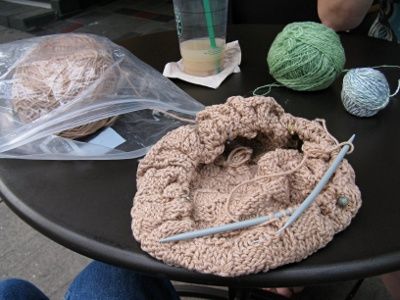 The yarn used for the cozy was Knitpicks Merino Style in cream held doubled, and a Phatfiber box sample of handspun merino from
Spindipity
. The combination reminds me of strawberries and cream, even though the handspun has blue and green in it, not just pink and red.
I brought 4 projects with me, in my usual over-kill. But I believe in having a project for every degree of concentration and interest! So, I brought
my single sock syndrome Ornette socks
; a random moebius loop scarf that was already cast on and is thus in the mindless k2p2 stage; a cotton cloth also in a fairly mindless stage (pictured above); and the fixings for another ice cream pint cozy (finished above). I was asked what I was knitting, and "hat" was the guess both times.
Meanwhile, my partner in KIPing cast on and finished a bootie in her own fingering weight 2 (and 3) ply handspun. This is more astonishing if one realizes that she started spinning casually in
January
and is doing all of this on a drop spindle. I've given her quite a bit of fiber from my own dyeing experiments as well as
all
of my Phatfiber fiber samples, and she's spun most of it up into an assortment of gorgeous fine gauge yarns. It's incredibly impressive. I was working on US#9s and I felt like I was working with tree trunks compared to her 0s.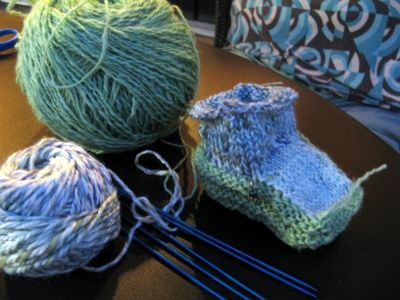 The pattern is
Christine's Stay On Booties
. (Ravelry link)
Exodus
We have a pond, and once in a while when I go out, I notice things. One of my favorites is the Exodus of the Toadlets. Every spring, toads spawn in the pond, and every year when the tadpoles finally absorb most of their tails, they all start hopping away from the pond
en masse
. It's really difficult to see them since they blend in so well. I was attempting to get pictures of my ice cream cozy this morning when I noticed them.
Can you see it? There's one in this picture. Click to go to a bigger version.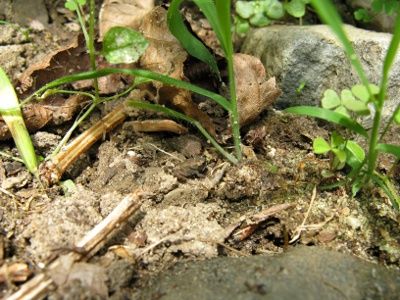 Does this help?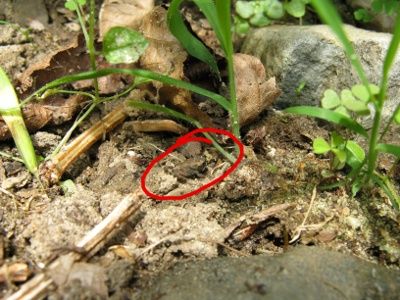 OK, this should be unmistakable: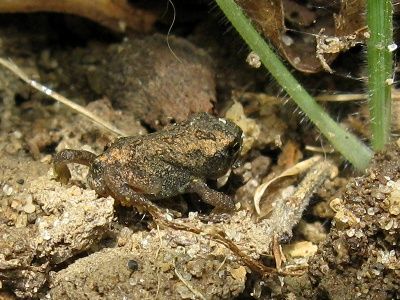 It would fit on my fingertip if it would sit still for it, but they all scatter when any of us loom over them. That's the only reason I notice them, when they all start jumping away and the combined amount of movement catches my eye.
I couldn't linger too long searching for tiny toads to photograph, however, as I had a date to go cherry picking.
Loot
I have two favorite fruits, the cherry and the peach, and since sour cherry season is so very short I try and make the effort to put up at least a dozen jars every summer. By short, I mean that the season is measured in days. A cherry tree essentially ripens all at once, with perhaps 3 days between the first ripe fruit and the last. And once they're ripe, they don't keep. So, today a different old friend and I had a date to go cherry picking.
There was a bit of a saga finding a place to pick, since Terhune in Princeton was picked out in
one day
and another farm doesn't start picking until tomorrow (Monday). But Lee Turkey Farm in East Windsor came through for us.
There was a bit of craziness on the way there that added to the surreality of the day. We saw a car parked in a space in the parking lot of an apartment complex, surrounded by other cars, and
on fire
. And no one seemed terribly disturbed by this. We saw a plume of black smoke and assumed that it was either a grill gone wrong (Sunday afternoon, after all), or perhaps burning garden trash in a long shot. And then we drove by the gap between two buildings and there was a
car
on
fire
. A woman watching was on her cell phone so we felt no hesitation in driving on.
We got to the farm a little before it opened, so we tooled around East Windsor a little and passed and gawked at the house that I lived in when I was very small. We moved out of that area when I was in 1st grade, but I still recognized the shape of the front of the house. And they'd cut down the plum tree that had been in front and had been too big for where it had been planted.
Picking was hot and humid and thunderstorms threatened distantly, but we managed to score a full bucket despite one of the staff saying the cherries were mostly picked out. It wasn't "easy pickings" for the casual "let's go pick some fruit on Sunday just to get out of the house" sort of picker, but I am
serious
about my sour cherries. The farm provides these great ladders, too, and prunes their trees so you can go right up the middle of them with a ladder and access lots of the high up fruit. We hit only three trees for our haul. This was good as quite a few people were there for the sour cherries.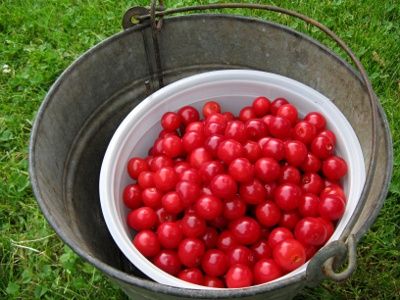 We picked a little bit over 7 pounds of fruit, beautiful large, plump Montmorency cherries. We hopped out of the trees and settled up just as it started to rain and managed to escape being rained upon for the most part.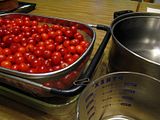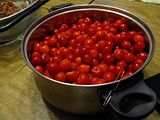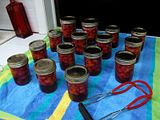 I used a bent steel paperclip to pit the washed cherries, which resulted in 4.5 quarts of fruit or 18c. I did a hot pack and boiling water process. 3/4c of sugar for every 4c of cherries ended up being 675g of sugar. It was much easier to multiply 4.5qts by 150g of sugar (a cup of sugar is 200g) than attempt to figure out how much sugar goes into 0.375c!
Cherries and sugar are mixed in the pot and heated just until hot, the juice from the fruit becomes the syrup. I overcooked the cherries, though so quite a few went soft and fell apart. I should have started the stock pot for the canning jars
before
I started heating up the cherries, but I got out of sequence and by then it was too late. They'll still be delicious, however, and that's what matters. Processed about 15min. Not precisely sure how long as I staggered them going into the pot, but it was more than 10min for each jar. I started getting seals "popping" immediately.
I like to add the fruit to baked goods in the winter. I have an almond and butter cake recipe that really sings when I add sour cherries. I like to use the syrup in selzter or over shaved ice, and the fruit is fantastic spooned over ice cream or thickened and slathered over cheesecake.
I hoard my cherry loot all winter, eking out a dwindling supply for as long as I can. It was particularly important to me that I achieve cherries this season, because I missed last year and had only
three
leftover jars to last me for the entire year. It's a lucky thing I'd picked 9 pounds of cherries the year before....
... Dude, this is a long post!