(Don't forget, the ice cream giveaway
here
!)
Today is
Duanwu Jie
, the Dragon Boat Festival. A day when one traditionally eats
zongzi
or bamboo wrapped sticky rice dumplings.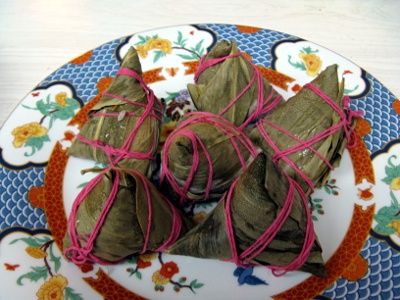 Commercially made frozen red bean zongzi.
... I made eggplant rollatini for dinner.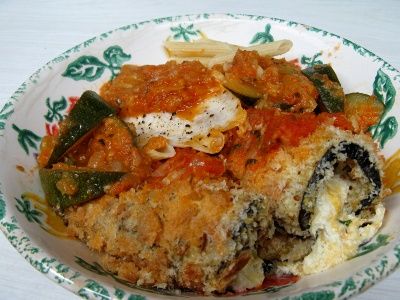 Eggplant rollatini with braised flounder over zucchini and penne.
This is what I get for not being able to read Chinese. If I could read Chinese, I would have noticed it written on the free calendar we get from the Asian grocery. (Let's ignore the fact that my parents didn't realize it was today, either.)
But it's all right. We've had lots of
zongzi
recently, since they're so easy to get these days. They're readily available fresh or frozen at the Asian market. It seems almost cheating not to have to take a special trip to Chinatown, or spend all day making them ourselves.
Meanwhile, the eggplant was heavily modified from
this recipe on Epicurius
.
Eggplant rollatini with braised flounder and zucchini over penne
- Serves 6 very hungry people.
2 medium eggplant, cut into 1/3in slices (I cut up the leftover and added it to the zucchini later)
3/4c flour + salt, pepper, thyme, oregano
3 large eggs, beaten
2tbps olive oil (beaten into the eggs)
half a big loaf of bread processed into crumbs (next time, I'll just buy plain breadcrumbs) - it was closer to 4.5c of crumbs because they were so coarse.
Stuffing:
Almost a pound of part skim mozzarella cheese, grated (we ate some, maybe an ounce).
1 small container of part skim ricotta cheese (15oz)
4oz extra sharp cheddar cheese, grated (half an 8oz brick)
a big bunch of fresh basil leaves, about a cup, chopped
pepper
Sauce:
1qt canned tomatoes (I would have preferred to double this whole sauce, but it still worked out OK)
1 large yellow onion, chopped
4-5 cloves garlic
salt, pepper, rosemary
olive oil
a medium zucchini, cut up
flounder fillets - 1 piece per person if they're a good size.
1 pound of pasta, penne in this case
Preheat the oven to 350°F, lay down parchment paper on 3 baking sheets and followed basic breading procedure (flour, egg wash, bread crumbs), laying 6 slices onto each sheet and baking them for about half an hour or until the eggplant is tender and the crumbs are browned. Let them cool before stuffing, although I confess to doing it when some of the eggplant was still warm.
To make the stuffing, grate all the cheese and then mix it together with the rest of the stuffing ingredients and set it aside until you're ready for it.
For the sauce, brown the onion in some olive oil, add the garlic, and then the canned tomatoes. Bring it to a boil and then using a food processor or immersion blender, grind it coarsely. Season it to taste and simmer it while doing other things. If it simmers too dry, add a bit of water or some of the water from the cooking pasta.
By this point the first tray of eggplant was cooled, so I started stuffing them by putting a lump about the size of a golf ball on the narrower end and rolling it up. I laid each of these eggplant roll-ups in a baking pan I'd brushed with olive oil. When the pan was full, I topped it with about 2/3 of the red sauce reserving about 1/2 a quart (more would have been better) and put it back in the 350°F oven for about 30min, until the cheese inside was all melted and hot.
Putting the remaining sauce aside for the moment, saute the leftover eggplant bits and a chopped zucchini in some olive oil until about half cooked. Then add back the red sauce and let it simmer tender while the pasta cooks. When the pasta is done, cook the flounder fillets and dinner will be ready when they're cooked through which is about 5min. Basically, dust them with pepper, and lay them over the surface of the simmering zucchini/sauce mixture. Cover the pot and let them steam/braise until cooked through. This should be about a half hour from when the eggplant went into the oven.
It was a very involved recipe, although very tasty indeed. Luckily, the eggplant can be prepared in advance and held in the refrigerator for a day before baking. So it's not necessary to do it all at once like I did.
Baking the eggplant instead of pan frying it means it's not as crispy after it's sauced, but I think it's a worthy trade off. And I like how the cheddar worked out, so I'm going to count this a success even if dinner was an hour later than I would have liked.