So I'm planning to do a demo/tutorial on my dye technique and I'd like to tape it on Saturday. I'm not sure what colorway to show, so I've put a poll in the sidebar to the right ---->. If you have an opinion, please fill it out!
Meanwhile, here I am blogging my dinner again. I tried this thing where I baked chicken pieces on a bed of lentils and liked it so much that tonight I tried it again with a slightly different configuration. It's good enough to record for posterity, although there was no measuring involved. So this is more of a notion of a technique than an actual recipe.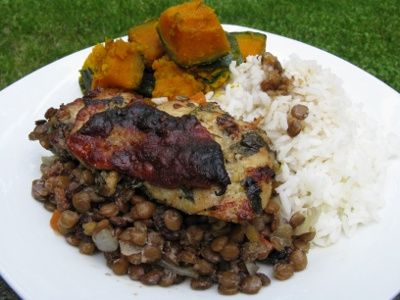 Boneless chicken baked on a bed of lentils, served with rice and kabocha pumpkin.