First things first, the winners of my October giveaway are
Rebecca
with the Pomegranate colorway, and
RightAsRain
for the random drawing. I've contacted both. Thanks for playing, everyone! There were a lot of great ideas, but I had to go with the one that caused me to go "guh" involuntarily when I opened the picture.
I'll have pictures of Pomegranate to post later in the week when it's dry. Yes, I dyed it already. How could I resist that rich, succulent pomegranate? I love those things, and the sheen of the silk and the silver glitter in the yarn like droplets of juice.... Seriously delicious. I really hope the yarn is as beautiful dry as it is wet because this will be a
fantastically
juicy colorway.  
Meanwhile, I never did post about my trip to Seattle. I went for a really quick little trip and took my nieces to a Keith Urban concert on the 29th. These aren't my concert pics. I was fooling around with my new camera which I'm still learning, and my new phone's camera, which I'm also still learning. Here's a shot of the Space Needle which I like. More after the jump.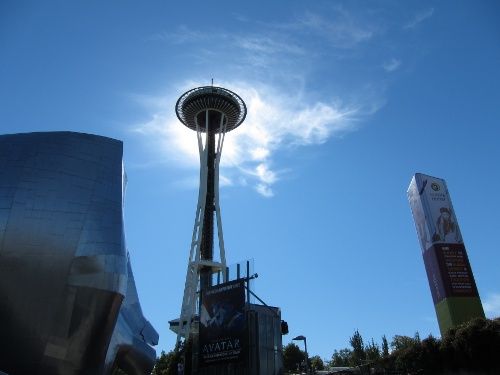 I'm really proud of how this one came out. After 2 days of no clouds, a few started rolling in in the afternoon and it just cried out for a picture.