I'm late, I'm late! But I
promise
this is worth it. I got back from Seattle on Friday and my age is showing because it took until today to recuperate. I'm going to post tomorrow with my trip shenanigans but I want to get to this month's giveaway before it's even
later
because I think it's AWESOME.
It has to do with this: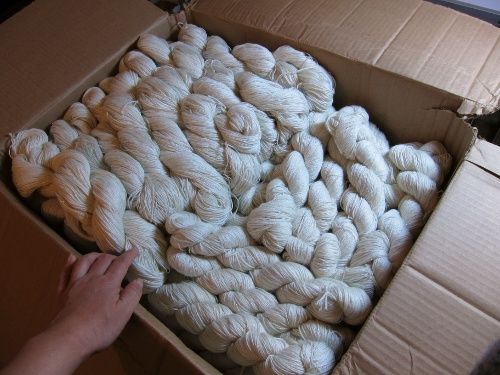 This is a case of the Arctic Hare base, to be specific 110sk of it.
The reason this is significant is that it is the
new
Arctic Hare base. For those in the "know", I use Kraemer Sterling for my Arctic Hare base. Kraemer recently decided to replace the silver fiber they were using with a silver colored polyester fiber. The price of silver has been fluctuating wildly, and going up and up for so many months that the producer of the special silver fiber could no longer guarantee it. Thus the switch to this poly fiber. This means that production of the yarn should be more timely and they can keep the price the same rather than raising it to reflect the increase in wool, silk, and silver prices.
So yes, the Arctic Hare dyed in September 2011 and earlier is all the old base with the real silver. All the Arctic Hare I will be dyeing this month and onward will have the 2% silver replaced with 2% silver colored polyester. The rest of the fiber content remains the same.
What does this mean for this giveaway? Well, I need to test it out. I have a few underweight skeins of the previous blend left, and I have this whole case of the new blend. You see where this is going, right? I need to dye up several batches to see how they compare. And then I want to give some away so people can see if it's just as beautiful as the old base. I think it will be, but there's nothing like holding it your hands and working with it.
So here's what I'm going to do. I am giving away AT LEAST 1 skein here, and 1 skein in my Rav group. They'll be about 101g, so borderline and not quite underweight but not quite the safe margin I like.
What I would like YOU to do to enter this drawing is comment here (or in my Rav group) with ONE colorway suggestion for this new base (one per location, so if you have two ideas you can double your chances by posting one here and one in my Rav group). You can describe it verbally, or you can link to a picture, etc. Give it a name, and post it any time through October 8th. On October 9th I'll draw a winner for the yarn. I haven't dyed it yet, but it will probably be in Starry Night or Frou Frou, or some other established colorway as yet undetermined. I'll be dyeing it up this week, you see.
Meanwhile, if I pick your colorway idea to dye up in
next
week's batches, I'll send you a skein of it once it's dyed up. What do you think? I think this is pretty nifty myself. I'm going to say at this point that I will pick at least 1 and no more than 2 of the colorway ideas I get, because I do need to cap this. But I think it's awesome nonetheless. And I'll add here that it's impossible to win more than one skein, just so we spread the wealth a little. So I'll pick the colorway idea(s) I'll use, and then pick the random drawing winners from the remaining entries.
You know you want to do it, right? Have at it, people!
And here is the Rav group post if you want to double your chances.
Oh, and don't forget to leave a way to contact you if necessary, Ravelry username is sufficient if your post doesn't link back to your blog, etc.