First things first, the winners of my October giveaway are
Rebecca
with the Pomegranate colorway, and
RightAsRain
for the random drawing. I've contacted both. Thanks for playing, everyone! There were a lot of great ideas, but I had to go with the one that caused me to go "guh" involuntarily when I opened the picture.
I'll have pictures of Pomegranate to post later in the week when it's dry. Yes, I dyed it already. How could I resist that rich, succulent pomegranate? I love those things, and the sheen of the silk and the silver glitter in the yarn like droplets of juice.... Seriously delicious. I really hope the yarn is as beautiful dry as it is wet because this will be a
fantastically
juicy colorway.
Meanwhile, I never did post about my trip to Seattle. I went for a really quick little trip and took my nieces to a Keith Urban concert on the 29th. These aren't my concert pics. I was fooling around with my new camera which I'm still learning, and my new phone's camera, which I'm also still learning. Here's a shot of the Space Needle which I like. More after the jump.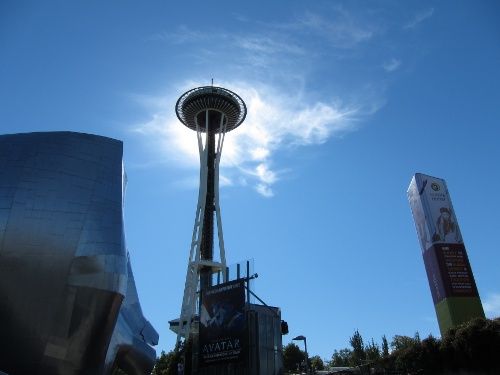 I'm really proud of how this one came out. After 2 days of no clouds, a few started rolling in in the afternoon and it just cried out for a picture.
OK, here is where I confess my extreme dorkitude, as if you didn't already know. I knit KU a monkey out of sock yarn.
See, I found out about a week before the show that my "what the heck" entry in the fanclub "meet and greet" drawing was one of the selected few. At which I facepalmed because how on earth was I going to do the m&g (or BSE as they call them) before the show if I had my two nieces with me? It was one pass only, no guests. Well, my sister to the rescue, she'd planned to transport us to and from anyway because it was a school night and mass transit would have taken too long.
Which of course meant that I would be able to go to the BSE and present some token of my appreciation, which led to
this monkey
. And that led to this monkey's day out.
I spent the day by myself in the Seattle Center area, walking around, kipping, fulfilling my quest for a fantastic eclair, and then met up with the girls right before the show. So this is the day before the BSE. I think I'll leave the concert and what happened before it to a different post. Mostly because I haven't got around to editing the pictures yet.
This was the monkey on the airplane. Yeah, I'm pretty sure my seat neighbors thought I was nuts.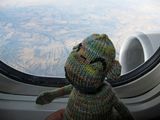 I finished everything but the legs on the plane. In fact, I hadn't planned to make legs but my sister convinced me that it really rather needed them, and I ended up concurring. She thought long and skinny but I went for more of an ape profile. An ape with a tail, just to be incredibly anatomically wrong. The body has a sort of eggplant shape. The only seaming comes from closing up the tail and legs where extra stitches are cast on, and grafting the ears closed. Everything is knit in one piece except for where components required stitches to be picked up.
Once they were done, I was really glad I did the legs. Because they're worked from picked up stitches, they're essentially hinged where they meet the body so the monkey sits down quite well. The colorway is called Sherbet, so I've been calling it "Sherbet" in my head. This was Wednesday, which was a quiet day at my sister's very pleasant house knitting legs. In the afternoon we went out and I picked up a little note tag and a length of ribbon.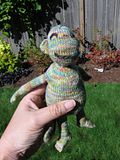 We also went to dinner that night and I had the most incredible compound beat salad. There was half a small haas avocado topped with watercress, tender beets, and a whole soft boiled egg that had been sliced in half, yolk side up. OMG So many of my favorite things all in the same place. I'm not sure what else was in it, but the main herb in the dressing was fresh mint, and it was
divine
. Of course, I followed up this incredibly rich salad with the pork belly and they practically had to roll me home, but sooooo worth it.
Thursday was my big day out, however. I walked around Seattle Center to get my bearings and realized it's really kind of fun, and really kind of small. And there were these big trucks lining the street waiting to pull into the loading bay behind the arena. So of course I had to take a picture.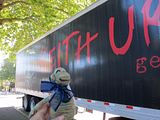 Having some trouble with the depth of field, yet.
And another, to prove we were all really there. :P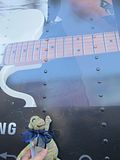 I'm pretty sure the driver of the truck thought I was insane.
And then I cut through the back of the arena and wandered around past the green and the fountain and found myself walking by a really odd looking building. So I walked around it to figure out what it was (the EMP museum) and this huge banner of a BSG viper came into view. So of course....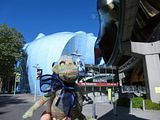 Nerds represent! Unfortunately the BSG exhibit isn't until the end of
this
month, but it was a total collision of fandoms.
Monkey also saw the Space Needle. He doesn't want to go into space, but he's OK with the Needle.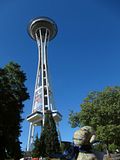 And by this time I was really, really hungry. I hadn't eaten breakfast and it was getting close to 11am. Now, according to the family, Dahlia bakery is
the
place for eclairs and I really wanted a proper eclair (or two). So I headed off and found it with no trouble. I ended up with 2 eclairs for me and some for my sister's family, and a sandwich. I had breakfast under the Space Needle.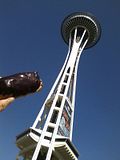 This is a cell pic. Not bad, actually. And no, I could only eat one eclair. The choux shell was so thin and delicate; the things was practically
all
pastry cream. So delicious, and so filling.
I walked around a bit more before handing off the baked goods to my sister and having lunch with her. Monkey sees some more sights in another cell pic. Seriously cool buildings, for real. They're not in the picture, but believe me when I say they're a pair of
seriously
cool buildings.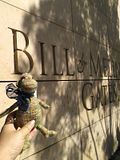 And then I ended up sitting by the fountain for most of the afternoon waiting until it was a reasonable time to go and queue up by Will Call for the BSE pass. Monkey liked the fountain.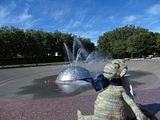 There was a lot of great people watching this day, and I was trying to conserve my feet (which I really didn't do well enough), so I started a sock and got quite a bit of it done, too. The best had to be the people running up to the fountain to touch the dome when it wasn't spraying. Little kids and adults all did it, and you could see their glee when they didn't get soaked. Kids were absolutely fascinated with the thing. And a few adults deliberately went up to the thing with the intention of getting soaked.
All in all it was a fantastic day of perfect weather that I really, really needed after so many weeks at home of dreary, dank, and moist. It might have been short, but it couldn't have been any more ideal.
Here ends Monkey's Day Out. At some point, I'll post a concert aftermath (sadly with no more monkey).