I have two things today! First up is the hand carved rubber stamp I purchased from
Brown Pigeon
on Etsy. It's a representation of my logo in a 4in square stamp and I
love
it.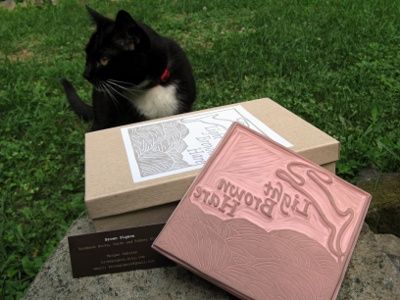 Mynah insisted on joining the picture.
Meagan does great work and I received the stamp a mere 12 days after I initiated conversation about the design and what would be possible.
It's a big, beautiful stamp that I intend to use on my shopping bags for festivals. I still need to decide on what kind of pigment ink stamp pad to get. I'm thinking that rainbow might be the most fun but it will depend on how expensive the pads are and how visible the finished image will be on the brown paper of the bags.
The other half of today's post is Doughnut Muffins. Or, in my case, Doughnut Hole Muffins. Picture, recipe and chitchat after the jump.