First a reminder! Today is the last day to comment for the July 1 giveaway!
I'm giving away some lovely Urbbody products
, you know you want 'em!
Meanwhile, it is hot. It is
ridiculously
hot. I have to give the rabbit outside ice bottles three times a day so he doesn't overheat. He's hiding in his little house cuddled up to a cold water bottle. For some reason, the cats have insisted on staying outside, however, and we're treated to melted cats draped over all the available cool surfaces.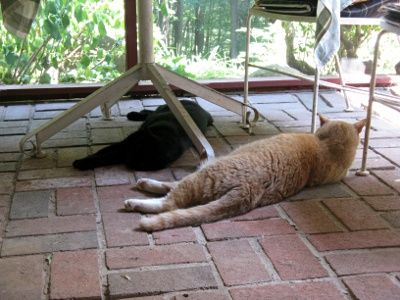 Bergil and Banquo defying sense and staying outside in the stunning heat.
The last few days have been taken up with preparing my Phatfiber samples. July and August were mailed out today. Sending 2mos at a time is more than a 50% savings in priority shipping, and that alone makes it worthwhile. They should get there in plenty of time for box drop.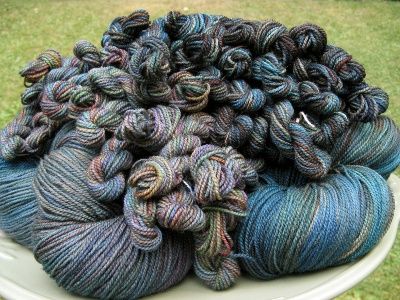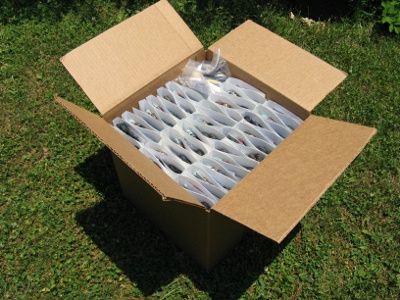 July samples shown in colorways Sea Wrack and Long Walk, Jackrabbit base.
And it's Wednesday, which means it's my day to cook. I refuse to heat up the house by turning on the stove, so I'm getting creative with leftovers. Especially after picking up a chocolate bar I left in my office and it
squished
.
We had a barbecue on Monday, so there were 3 ears of corn left over, and a bunch of steak. We also have a bounty of skinny Asian cucumbers (they taste like kirby cucumbers, but are even crunchier) and zucchini.
So I made a salad. We have no lettuce, but it seemed the sensible thing to do with 90-100°F weather. All I needed to do was grill up some zucchini and assemble everything, and then let it chill.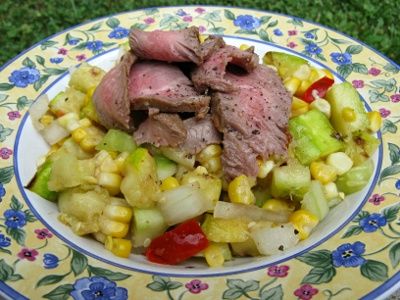 the kernels of 3 ears of corn
half a vidalia onion, chopped
3 small cucumbers, peeled and large dice
3 small zucchini, peeled, sliced into 3/8in planks and lightly grilled. Then large dice when cooled.
3-4 sweet hot cherry peppers, chopped
leftover steak, sliced
to taste: salt, pepper,
optional: lemon juice, olive oil
In this case, I mixed everything together except the steak and let it mingle in the refrigerator for several hours. Served as a bed for the steak over top.
A red bell pepper would be a great addition instead of the hot cherry peppers, but we didn't have any. Cilantro, lime juice, cumin and mango would be good, too, but I kept it simple. It's savory and a little sweet, crunchy and tender, and very refreshing.