I got my July Phatfiber colorways listed by the skin of my teeth, today, as well as a few other colorways. I'm still working on editing and then listing the rest of my June yarns. But first, I have to cook dinner!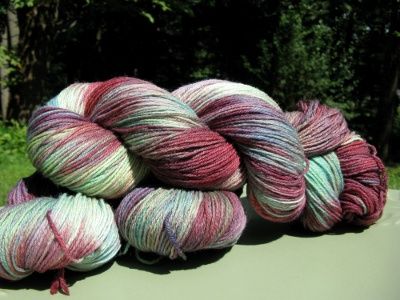 This is one of the colorways I listed last night. It's called "Monster under the Bed" and is a combination of a red burgundy or maroon, purple, and bright greens shot through with chartreuse and light blue. The picture will take you to the listing.
Now, on to dinner! I'm working with not a lot of sleep, so simple was intended as the order of the day. I was going to do chicken cutlets, but someone cut up my chicken breasts. Needless to say, I couldn't pound them and then coat them with flour and pan fry them anymore. Add to this that the tooth challenged member of the family requested rice instead of pasta, and my entire plan for the evening was shot.
So, since I couldn't go simple, I went complicated. But not too complicated. In this case, a kind of chicken croquette. I ground the chicken breasts with salt, a little thyme and black pepper, added some egg, and wrapped them around a bit of cheddar cheese. Coated with flour since I have no bread crumbs, and then fried in a pan with some oil and finished in the oven, or toaster oven in this case.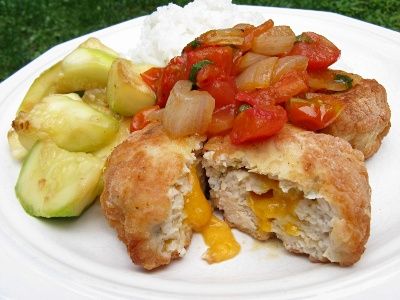 Recipe below the fold.
Chicken Croquettes
- improvised - serves 4 with 2 croquettes per person.
4 chicken breasts (or so) ground
thyme, black pepper, salt, to taste
1 egg
a 1/4in slice of extra sharp cheddar, cut in half, for each croquette
1/2c flour seasoned with black pepper and (optional) paprika
canola oil for frying
Sauce:
1 small onion, chopped
1 clove garlic and some fresh rosemary, minced
a sprig of fresh basil, chiffonade
1tbsp capers, chopped if they're large
black pepper
a couple tablespoons of olive oil
plum tomatoes, chopped - I'd go with a minimum of 1 tomato for every person, with more being ideal. I didn't have enough, so I added some halved cherry tomatoes from the garden to make up the difference.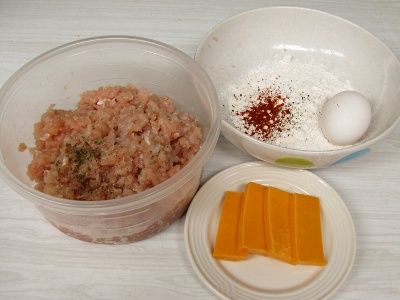 Season the ground chicken and mix in the egg. If it's a little too wet, add some bread crumbs or a light sprinkle of flour and mix it all together. Take a handful of the chicken mixture and stuff it with a piece of cheese, then roll it in the flour until thoroughly coated. Pat it lightly into a thick patty. It's easiest to use one hand for the flour and one hand for the chicken.
Let the flour coated chicken rest for 10min in the refrigerator before carefully frying until golden brown in a 1/4-1/2in of oil in a hot pan. Since these are browning, and not cooking through in the oil, medium high heat works. Don't crowd the pan, I needed to brown them 4 at a time. Place on a rack on a baking tray and finish in a preheated 350°F oven for about 15-20min until they're cooked through but not overcooked. The juices will be clear and they may leak a bit of cheese. Make the sauce while the chicken bakes.
For the sauce, pour some olive oil into a hot pan and brown the onions, garlic and rosemary. Add the capers and cook briefly. Then add the tomatoes and cook until hot and starting to soften and somewhat reduced. Throw in the basil, and season with pepper to taste. Serve immediately.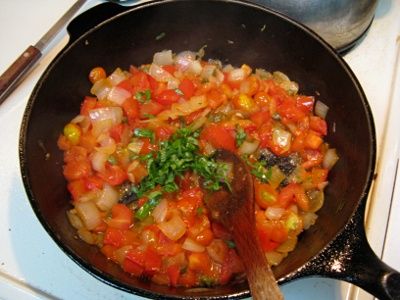 I also sauteed some zucchini with garlic as a vegetable. My order of preparation was to form the croquettes and then prep the vegetables for the sauce and the vegetable side dish while the chicken chilled. Then I fried the croquettes. When those went into the oven, I poured out the oil from the pan, wiped it clean and added a bit of olive oil, and sauteed the zucchini. Then I put the cooked zucchini aside and used the same pan to prepare the sauce which was ready right at the same time as the chicken.
This was
very
tasty. The croquettes weren't crispy because they weren't breaded, but the coating absorbed the sauce and helped keep the chicken juicy.