Deadlines in February always have a sort of headlong quality to them. The month is only short by a couple days, but those extra hours add up when March 1 is within sight.
I've been participating in
Nerd Wars
all month, and I have a weaving project to finish. This was it last week. I have 18in left to do and not much time to do it in. We'll see if I get it in on time.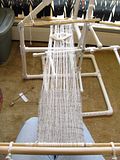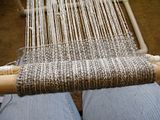 It's a
backstrap loom
warped with some matka and noil 2ply silk I have, and I've been weaving with some 2ply Gottland wool. I've started splicing in extra silk where the warp is thin, so we'll see how that changes the character of the fabric. I do like how it's turning out, but I will never really be a weaver. I much prefer my knitting needles.
I've also wanted to post the most ridiculously easy warm apple deliciousness ever, and since I had three overripe Golden Delicious apples and the desire, I made it this morning. I've got the method after the jump as it's not really a recipe so much as a thing to make when the ingredients match up with the inclination. There are two ingredients, apples and butter, and it can be eaten by itself or as a condiment.