February! I'm a little scattered because February 3 is New Year's day according to the Chinese lunisolar calendar, which means that I've got to clean and clean and clean some more. But tonight I have a giveaway for you all! This month, I'm giving away half a set of stitch markers. But it's not just any half set.
You see, normally my stitch markers come in sets of 4. But the February Phatfiber box theme is gems and minerals, so I decided to make a very big set indeed. That set will be an assortment of 15 widgets in five sizes including the rarely seen extra large (12mm) marker. So, half a set will net you seven widgets, and I've thrown in a couple ring markers, too. That's 9 markers total. Here they are displayed on corner of my helical blanket, which will incidentally take up the other part of this post.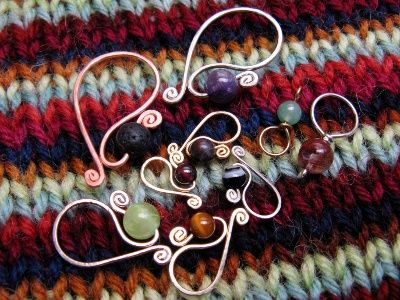 Some of the widgets are made with copper this time, which is softer and will develop a patina more quickly. I don't actually know what all the stones are.
For this month's giveaway I'd like a story, true or made up, involving Tigers (for the year we are leaving) and/or Rabbits (for the year we are entering). It can be as silly or as serious as you'd like, and coherence is overrated. I'll accept jokes, limericks, and haiku in lieu of a full narrative.
I'm leaving this one up through Saturday, February 5 and I'll randomly pick a recipient on Sunday. Once again, entering both the blog and the
Ravelry group giveaway
is fine.
For me, I'd like to mention Hotshot. She was an elderly little dwarf bunny who died of old age last week. I got her in July 2007 from my niece who was moving overseas, and she'd been a grand old lady ever since.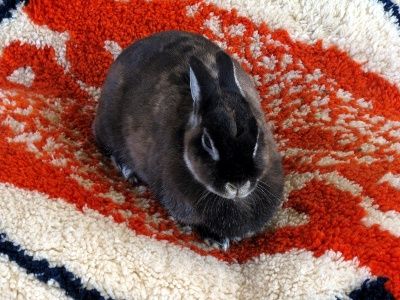 Last winter she became very sick with one of those mysterious rabbit malaises where she went all lopsided and couldn't balance. We moved her inside and made sure she was hydrated and could eat, and she got much better. She was never quite 100% again, but she'd run around on my floor and bother the cats quite comfortably.
Now her not-quite-buddy Squirrel (also a dwarf rabbit and also from my niece) has moved into Hotshot's indoor digs and is getting used to being actually warm. Poor guy usually overwinters outside, but it's just been ridiculously cold. So while I'll miss Hotshot, I'm glad Squirrel will have a more comfortable time of it.
Now it's your turn!
Meanwhile, this was December's Mystery Box, for those who were wondering.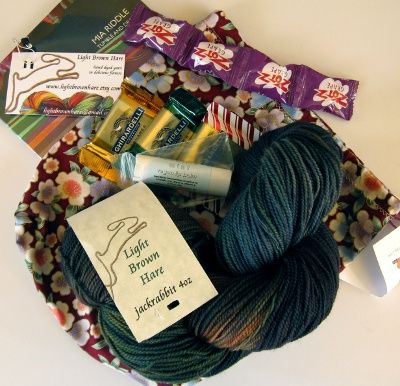 And below the cut I'm going to talk about my
Helices blanket
.
I finished my helical blanket and I'm very pleased with it.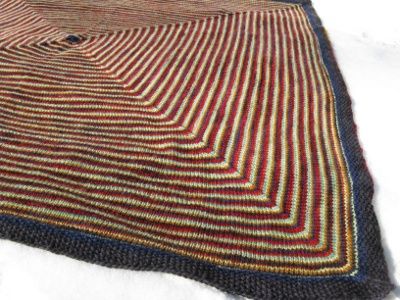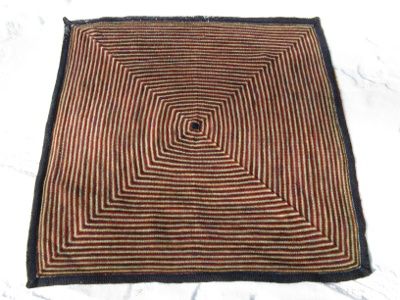 After blocking.
And one with the cat. She flopped down on it and rolled onto her back. I think she thought I was putting it on the snow especially for her.
Here's a shot of one corner with nice, true color.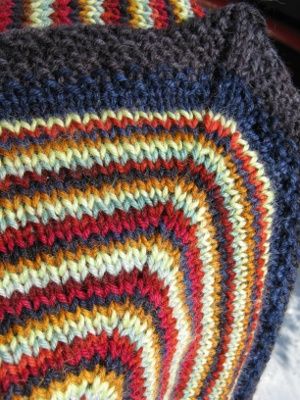 The edge is finished off in a dark grey because I didn't have enough dark blue left to create a deep enough border. They have a similar value so I didn't bother working a jogless join when I added in the new color. I also didn't worry about the flecked appearance of the blue and grey purl stitches alternating. It's subtle and the eye blends it from a distance.
All these pictures are on my Rav project page, with a lot more actually, but I wanted to talk about how I finished the blanket. Specifically what I did when I ran out of a color.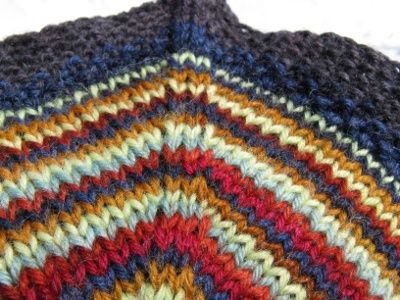 I decided that I didn't want a single scrap of yarn left over, so I worked each color to the very end. Because of the way each row is worked in segments of each color, I couldn't use up the last bit if it wasn't enough to reach the next color in the sequence. I managed this by either joining in the ties off the hanks, or by leaving a long tail of excess. Those tails were cut off, joined together, and added to the bind off yarn.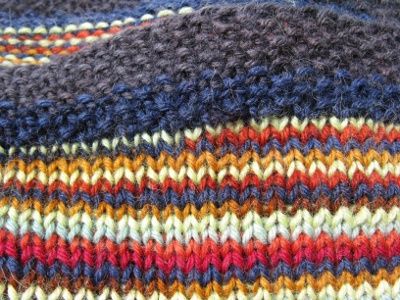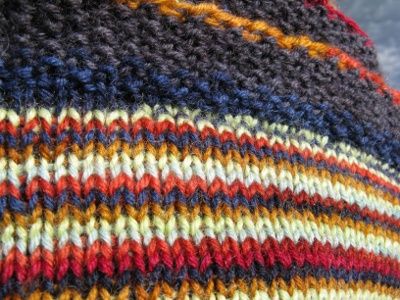 So, when I no longer had a color in the sequence, I would just continue over it with the color that I'd already been using. I had thought that it would look like the color just sort of disappeared into the others. Of course, what it really did was create jogs where there hadn't been any. Tweaking the tension of the stitches helped, though. Making the last stitch of the color smaller and enlarging the stitches above and below it made the transition a little smoother.
In the end, though, the blanket it so
dizzying
that I don't think where the colors actually disappear is that much of a concern. I really like how the last stripes thin down and disappear into the edging, as well. It feels organic and more visually interesting than the stripes being perfect to the end.
I did run out of yarn when I bound off. I had to join in a little more of the dark grey to the tune of 4-5yds. But all in all I think it worked out great. The finished blanket weighs about 750g and is 54in wide.
I really enjoyed this, even if the quantity of stockinette was unbelievably boring. I'm considering putting together a little time lapse demo of how the stripes stack, since it's a really easy technique but it can be difficult for people to grasp text explanations.