I can't believe it's already November 21. I think someone's playing a joke on me and rolled my whole calendar forward a few weeks. It's
not
almost December! *cries*
But I have a giveaway to give away! This month the randomizer chose Connie! I've contacted via Ravelry.
Here's what I've assembled so far. I'm waiting on one little component so I can make a glow in the dark stitch marker or two. I can assure you through personal experience that it's really annoying to drop a stitch marker in the dark.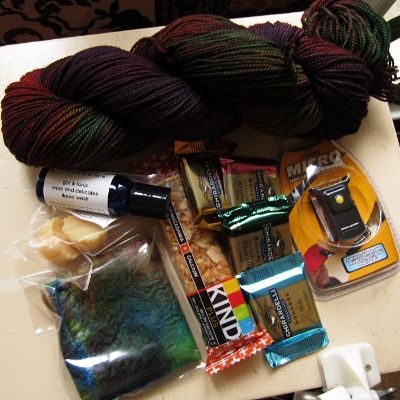 The little green packet on the lower left are some silk hankies I dyed last week just for fun. They're not something I plan to have in the shop any time soon. I love playing with hankies, but it's really just play and I figure that something a little different would help for power outage boredom. The delicates wash and lanolizing wool drops are offered up by my friend Cate of
Urbbody
(her home shop is
Urbhome
). I think the lanolizing drops are really cool, even if one isn't treating soakers, and I used a bunch of the delicates wash recently to de-smoke all my wool after a week of wood fires.
Meanwhile, I have nothing of substance to talk about today but I do have my Thanksgiving menu planned so I'll put that behind the jump.