I can't believe it's already November 21. I think someone's playing a joke on me and rolled my whole calendar forward a few weeks. It's
not
almost December! *cries*
But I have a giveaway to give away! This month the randomizer chose Connie! I've contacted via Ravelry.
Here's what I've assembled so far. I'm waiting on one little component so I can make a glow in the dark stitch marker or two. I can assure you through personal experience that it's really annoying to drop a stitch marker in the dark.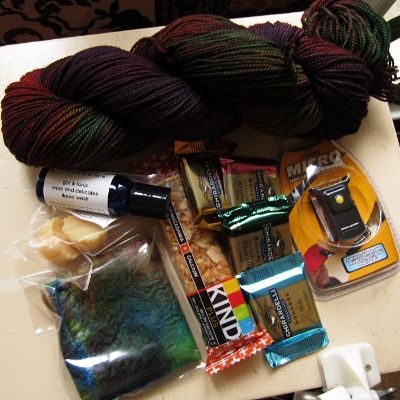 The little green packet on the lower left are some silk hankies I dyed last week just for fun. They're not something I plan to have in the shop any time soon. I love playing with hankies, but it's really just play and I figure that something a little different would help for power outage boredom. The delicates wash and lanolizing wool drops are offered up by my friend Cate of
Urbbody
(her home shop is
Urbhome
). I think the lanolizing drops are really cool, even if one isn't treating soakers, and I used a bunch of the delicates wash recently to de-smoke all my wool after a week of wood fires.
Meanwhile, I have nothing of substance to talk about today but I do have my Thanksgiving menu planned so I'll put that behind the jump.
Since I will forget next year if I don't put it somewhere, this is my planned menu.
LUNCH
crudites - carrots, cauliflower or blanched broccoli, cherry tomatoes, red bell pepper, celery, whatever looks good.
cheese and olive plate - a blue, a soft ripened, and a firm, olives, peppers, etc.
crusty bread
celery soup
veg dip
DINNER
Turkey roasted with rice stuffing (rice, brown rice, wild rice, carrots, onions, sage, thyme, chestnuts)
baked potatoes (russets)
cranberry sauce (1 bag cranberries, juice and zest of 1 lemon, 1c sugar, cooked over medium heat until the sugar is dissolved and one's preferred number of berries have popped.)
pan gravy
creamed spinach
(first time recipe)
roasted veg: carrots, whole garlic cloves, parsnips, beets, cippolini onions, brussel sprouts w/olive oil, salt, pepper.
herb salad: chopped romaine, watercress, mint, endive, spinach, sweet onions, radishes, olive oil, cider vinegar, s/p.
sweet potato pie
(we're always too full, but I have to make it)
I shall have to pick the right radio station to listen to while I do all the cooking. I usually listen to PBS which is fine, but I've been listing to actual
commercial
radio lately for music and since I actually listen to and analyze song lyrics I keep getting angry. XD Soooo, yeah, PBS.
Now, can we please slow down the space/time continuum a little so November doesn't fly by quite so fast?