At least I'm a pro. :P
Before I get into the
why
of all this procrastination, one very exciting thing and one fun thing. First off the exciting thing; my yarn was recommended in the
Knitcircus Holiday edition
gift guide on page 15.  It looks rather lovely with all those other beautiful yarns, I think.  And if you didn't see it when it came out, two of my colorways were used in a gorgeous sock pattern in the
Fall 2010
edition, as well (pgs 70-71 and 90-91). They happen to be two of my
favorite
colorways, too.
Secondly, the fun thing. There's a gallery of pictures from the festival over at
MyCentralJersey.com
. Most of the shops I purchased from are pictured in some way, at least the fiber shops. Here's a closer-up of the handspun angora plied with beaded silk which I bought. And the two giant vintage buttons that I adore.  The angora shop was pictured, but the button shop was not.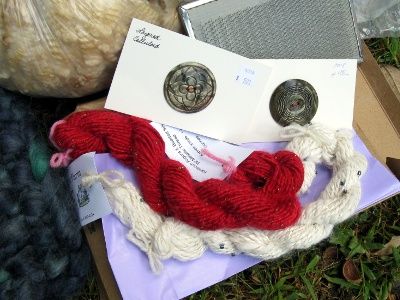 Anyway, on to the procrastination. :P I'm feeling a little attenuated and blocked. It could be post festival blahs, but I think it's mostly because I
want
to play with the new fiber and my continued lack of netting means I
can't
. I went to every shop in the area that might have had it, and none of them did. So now I've ordered some and I'm waiting impatiently for it to arrive. Really, I should have got into the car and made the trek to Fabricland. It would have been a drive, but I would have my netting!