So, yes, it's Wednesday and the
GSSB
festival has been over for days and I haven't said a peep about it until now because ZOMG I feel a little like a hamster in a ball rolling around with So Much To Do!
First things first, the festival. The festival was wonderful. This was my second year vending at it, and it's bigger, better organized, better advertised, and all around a great weekend for me. I met lots of great people and saw some old friends, bought some
incredible
fiber for the shop, spent far too much money on treats, and sold twice as much as I did last year. To say I was pleased would be an understatement.
This was the morning of the first day when we were all busting our butts to get set up in time. The weather was gorgeous, brisk and clear and not horribly windy.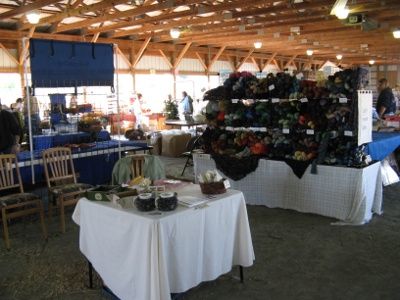 One thing I have to do is figure out a better way to define my booth space. I had an open corner because the North Country Spinners were stage right of my booth and their space was a loose circle of chairs. People could and did cross between their setup and the edges of our booths.
Now, normally an open corner is fantastic and I am glad I had it. It means that people can see and approach one's booth from 2 sides rather than just one and it's roomier. Unfortunately, there was
nothing
defining 2 edges of my space so it looked spartan, a bit empty and unconnected. A rug would have made a huge visual difference but I worry about the tripping hazard. I made do with my little card table in the corner, but it looked
very
separate from the yarn. I should make another banner for my shop so I can put one with the yarn and then one with any auxiliary surfaces.
Due to the layout I had my yarn facing the open doorway that was 40ft away. We were in Barn 3, and I had the yarn facing Barn 2 where the organized fiber animal displays were. This was also good because the majority of the foot traffic came to our barn from Barn 2.
Meanwhile, directly across the aisle from me was Woods Edge Farm and caddy corner? The most adorable 3wk old alpaca cria and its mother. We had a great view of them for the whole show.
Things that worked out great this year were the vendor apron, the cubes (although I'm going to replace the connectors with Velcro cable ties as long as I can be sure the Velcro won't snag my yarn), the pattern giveaway with the samples on my table. A lot of people stopped to look at the sheepy mugs and cracked up. :D I also knit some of my roving with my giant 20mm needles and that garnered some attention as well. I did that both mornings and it kept me entertained. I also made some stitch markers while I was there, which was a good thing since I finished both roving neckwarmers I'd been working on.
I sprinkled some lucky stars that my niece and nephew gave me over the summer all over my tables to give it a bit of color, and the knit samples were definitely useful. I also had business cards scattered all over, and I made enough logo shopping bags to be comfortably situated. All in all everything was pretty smooth. Even taking credit cards was easier than I had feared.
On Sunday, my mother decided to come with me for the whole day. I'm afraid she was bored stiff. Saturday was gorgeous and hopping for most of the day, and I'm generally too wound up to do anything but stick to the booth for the whole day. Sunday is traditionally slower to start and the weather was damp and dim, which slowed things down even more. It was definitely quiet on Sunday. But this did mean I could go and take a quick look around the barns and get some shopping done.
I did a lot of shopping in a very short amount of time, and I never did see everything.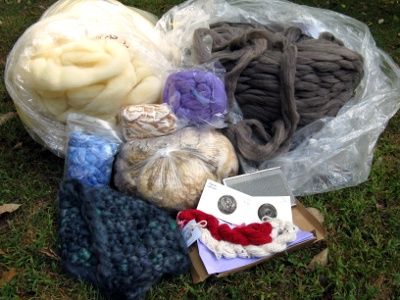 This year's loot. That thick knitted piece is some wonderful wool/mohair roving I bought to knit with since I finished the bit of roving I'd been working on. Giant buttons and beaded angora plied with silk, and jewelry for presents and fiber for swaps, and a wool comb thingy, and oh yeah, FIBER FOR THE SHOP.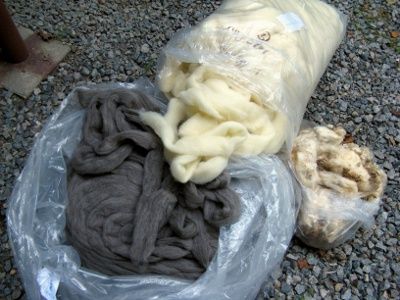 I'm so excited about this I can't even properly express it. See, I've wanted to carry fiber in my shop for a while but I'm not a spinner. I know the basics and can use a spindle, but I'm still mostly a knitter and dyer. But I remembered this one booth from last year and the most incredible fiber. It's American Silksheep fiber and it's lustrous and strong and soft with a staple that's often easily as long as my hand or longer.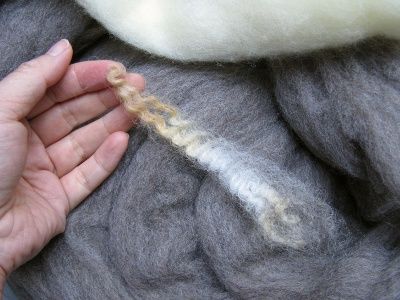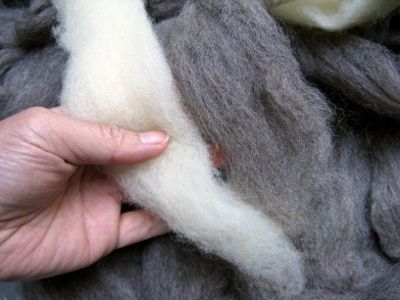 You've never heard of it, you say? I'm not surprised. Only one person has this fiber because only one person is
creating this breed
. Valerie Herenchak is developing this breed, and be still my heart she's getting some of her fleeces spun up into yarn (as opposed to what she spins herself as a handspinner). I've asked her for a lace weight and I can't wait to see what she gets from the mill. Meanwhile, I have a little over 10 pounds of prepared fiber from her, a wonderful dark top and an incredibly springy white roving, as well as some raw locks to clean and then dye. As soon as I can get some more netting, these are going into the dye pots.
This is the next big adventure for my shop. I'm going to devote a section of my shop just to American Silksheep because I think it's that fabulous. I hope the samples I send out soon will convince everyone else of this as well. The things that really excite me about this is that it's different, local, a real shepherd I've met in person and shaken hands with. I
love
buying local. It's worth it to me on so many levels. And this is
new
. I could try and carry all those lovely fibers that I see everyone else dyeing, but people talk about how the market is saturating. I don't want to compete, I want to
supplement
, to march side by side with something different. And if other people discover this fleece and realize how marvelous it is, contact the source and buy their own? GOOD.
This is made in NJ,
seriously
made in NJ, and all I want to do is play with fiber. Of course, I've got almost 200 items to photograph and list. Etsy has been having issues with listing all day, so since it's already so late, I'm going to start listing some tomorrow. A big shop update but in chunks, so tomorrow will be Jackalope. Not sure when I'll be able to do the rest of it. I need to finish taking all the pictures first, and that's a chore and a half on its own.
And one last thing, I'm doing another little festival in November. This one is... hm, I have no idea what this one will be like. I don't even know if it's a good fit for me since it's in its first year. The Montgomery Township Honors Society is putting on something called
Montgomery Made by Hand
to be held at the Montgomery high school in Skillman, NJ. I'm not expecting huge receipts but if I do moderately well I'll be pleased. And who knows, maybe I'll be surprised! Also, indoors, I like the idea of indoors....