It's September already and I'm dyeing up a storm. But I'm taking a break from the dye pots to plug
LylianMae Fiber Artistry
and offer up some of Emily's lovely hand dyed roving for this month's giveaway.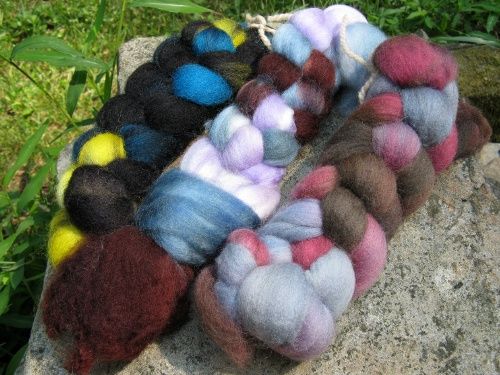 These are three 25g samples in Falkland/Corriedale cross colorway Quarantine; superwash merino colorway Brown-eyed Girl and Rambouillet colorway Morgaine: Lady of the Lake. With these braids comes a sample of Eucalan grapefruit wool wash, two sushi erasers, and an assortment of teas.
Emily is a spinner and a dyer, and her shop is full of lovely handspun and fiber, as well as these really great lap aprons for spinners who prefer their fiber in their yarn rather than all over their clothes. So please stop by
LylianMae Fiber Artistry
and find something you like and come back here and tell us all about it any time through Tuesday, Sept 7th. I'll pick someone at random on Sept 8th.
Don't forget to leave a way to reach you, or come back on the 8th to see if you've won. And if you love her handspun, I'm giving away a sampler at my
Ravelry group, too
.
Meanwhile, back at the ranch, there are certain things one doesn't wish to see at 3am.
Pink not being the same pink when halfway through trying to make matching dye lots is definitely one of those things.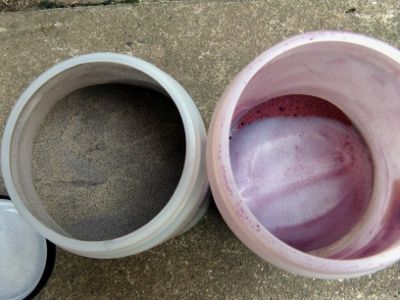 On the right is what's left of my Jacquard Pink 608 purchased about 2 years ago. On the left is the 1 pound jar I purchased recently of, yes, Jacquard Pink 608. It doesn't just look different in the jar, either. It's very visibly different in solution, deeper and more purple in tone. Even the
label
is a different shade of pink. I know dye lots change but this was much more than I had anticipated. *sigh*
The 3am surprise was my own fault for not investigating the new dye when I received it. It's clearly visible through the side of the jar that it's different. I had my fingers crossed that it would look more similar once mixed, but that didn't happen. At least they have the same texture, and hopefully they've improved that whole sedimentation/speckling problem.
I have no idea what impact this will have on my colorway recipes as of yet because I had just enough of the original pink left over to finish my matching skeins this morning. I'm going to have to test it out when the weather cools down enough to dye during daylight.
My new jar of Scarlet is different too, but not even remotely this vastly. The pink is different enough that I wonder if my original jar was a mis-labeled fuchsia. But it's much more likely that it's a reformulation and will hopefully dye up much closer in color than it looks. Dye in solution never looks the same as it will on the fiber. One thing I suspect, however, is that it's much stronger. I'll need to use a light hand until I adjust to it.
I managed to get 33sk dyed last night, and I'm hoping to get another 33-42 tonight. Tomorrow is supposed to be another scorcher, so it looks like no daytime dyeing for me until the weekend. I am very happily taking half a day off on Friday to go to the
Great Allentown Fair
which is just across the border from us. And then it's back to nose to the grindstone to get things done for the weekend after and the
Garden State Sheep Breeders festival
. I can't wait!