I meant to do this yesterday, but it was the last push to get everything dyed in time to dry for Saturday's festival and I never managed to do so. But I'm here today! (Cannily avoiding inventory and labeling, too.) And I get to announce that Random.org picked cthulhulovesme to win the
giveaway
of lovely
LylianMae Fiber Arts
fiber.
Meanwhile, back at the ranch, I did a quick test of my new booth setup today and this is how my wall o'yarn looks.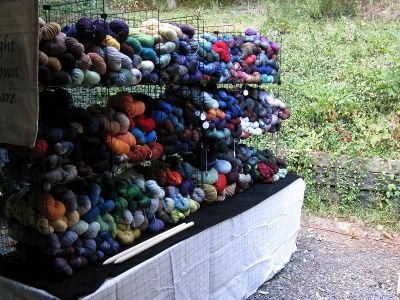 It's most but not quite all of the yarn. The laceweight is still drying and there are some odds and ends lurking in a box that I haven't excavated yet.
Those are my giant homemade needles on the table in front of the yarn. I decided that the roving was thin enough to knit with straight and so I'm going to make a scarf with some that got a wee bit felted.
I also have a card table to lay out the samples I've made and such. And since I'm in the booth alone this year I'll be bringing some extra chairs so people can relax. There was a definite lack of indoor seating last year so I think it'll be good. I'm leaving the dress form home this year, though. I didn't dye up any more of the colorway I used in the shawl so I don't feel right displaying it quite so prominently.
Oy, OK it's time for me to catch the rabbit and put him away and then I need to finish this inventory. One more day!