I'm supposed to be doing a shop update. In fact, I should have started it on Thursday but between the heat and family visiting I haven't done much of anything useful at all. So, this is my concert aftermath, and then I'm going to start working on my shop update and if I don't get anything listed tonight I'm going to give away some yarn on Twitter. I don't think it'll come to that, but it's a good extra incentive to finally edit down those 400+ pictures I have.
Also, I should say I'm one of "those" fans but I'm
not
one of "THOSE" fans. I met some of THOSE fans on the 14th and I'm far too mellow to be that way.  Here, have a teaser picture: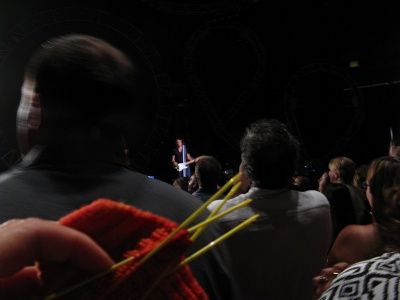 Yes, that's a picture of my
sock in progress
at the Newark show. I
am
a knitter, after all! I like this tradition
a la
YarnHarlot and I think I'll continue to do this in the future. That means I need to knit more socks, I think!
More blather and eventually lots more pictures after the jump.