Summer is here with gorgeous weather and long days that still don't manage to be long enough. I'm working on the shop between family visiting and other family visiting and going to visit family, and in general lots of demands on my time. Keeping true to my promise to update the shop every 2-2.5 weeks, I'll be restocking the laceweight early next week. I have 32sk ready to photograph and I was going to do it this weekend but the niece who takes fantastic photographs will be visiting, so I hope to dragoon her into taking product photographs. This weekend I will be skeining and dyeing up the 6oz skeins of Jackrabbit instead.
But before I natter on about all and sundry, I should get to the giveaway! This month I'm giving away beads and hairsticks. Hairsticks because it's July and what better time to keep one's hair off one's neck? Beads because, well, they're beads! Specifically, these are seed beads suitable for beaded knitting and crochet. Beaded projects have become more and more popular, but it can be difficult to find beads. So, for all of you who ever thought about trying it out but haven't actually taken the leap, this is especially for you.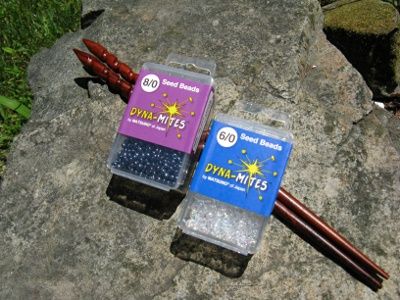 The giveaway consists of a pair of hairsticks, 40g of size 8/0 seed beads in Iris Silver (a shiny dark grey, suitable for lace weight), and 40g of size 6/0 seed beads in Rainbow Clear (suitable for fingering weight).
The hairsticks may look like knitting needles, but they're not. The tips are flat and start around a US#3 and they gradually grow to about a US#11 instead of having a consistent diameter. Still, if you're not too picky about gauge, they'd do in a knitting emergency. I asked a friend of mine to pick them up for me on a visit to Costa Rica. They have a beautiful grain and wood color, but I don't actually know what wood they are.
I'll let this giveaway run a little longer than usual, through the 9th since I'll be going up to Boston for a few days at the end of the week. Just post here and tell me what exciting things are going on with you this month! And believe me, even just relaxing in the back yard (I typo'ed that as "yarn") with a tall iced tea and a book sounds exciting right now.
As usual, double dipping with the Ravelry group is absolutely fine. And remember to leave a way for me to reach you if you win. Ravelry username is sufficient.
More gabbing about stuff after the jump.
By busy, I mostly mean interrupted, but in good ways. Two of my nieces were visiting for part of this week and I took them to see
Steve Martin
(there's a really surreal music video for one of their songs on his site) and
The Steep Canyon Rangers
(caution, their site's music player autoplays).
I have to say, if you like banjo or bluegrass at all and have the chance, GO SEE THEM. They are really, really good. Fantastic, even. I'm terrible about music and don't really know anything at all, but they had the whole theater of rather staid New Jersians completely engaged.
Steve Martin quips his way through the pauses between songs and he and the band have a charming stage dynamic, and several of the songs are funny, but it's not about the jokes. The music is the star. I ended the night picking up all the Steep Canyon Rangers cds because they were that good. OK, and the jokes were good too. The one about the bass being a refrigerator especially paid off before the end of the show. It was just so much fun watching them. They were so clearly enjoying themselves.
Unfortunately I have no pictures, but I'm really glad to have seen this concert. I credit (blame?) Steve Martin for my love of the banjo, and it was wonderful to have been able to see him in his element with it.
And then on Sunday we're having visitors again, this time my other niece and my nephew. This niece takes seriously fantastic photographs so we'll see how she manages with product photography. Product photography can be really weird for a photographer unused to it since it's not necessarily about an attractive picture or balanced composition. And in my case a pretty picture can be a problem if the colors aren't accurate. We'll see how it goes, and hopefully I'll be able to list the laceweight on Tuesday.
More sock yarn is on tap for the weekend because the Jackrabbit 6oz is shamefully low and
next
weekend finds me in Boston for a friend's birthday and another concert. This is the summer of concerts, really. I live like a hermit all the rest of the year so I can do this kind of thing when the opportunity arises.
I've also been heavily involved in
NerdWars
as the Team Vipers captain, and it's an astonishing lot of work being on the ball about things even though I'm just a lowly captain. And despite overlap, I've been neglecting the BSG FPB game on Ravelry to focus on my NW duties. I did manage to dye up these skeins of yarn using hickory and cochineal for one BSG FPB ready room, however. Natural dyeing is an exciting departure for me since I usually use acid dyes. I really like how these turned out. Cochineal is strong!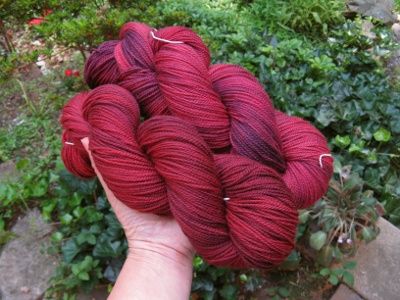 So many project so little time! Fun ones and work ones and everything in between. I need to prep my Phatfiber samples for July before I go away next week, also. My June samples arrived a day late and missed that box, so I really need to be on the ball about it this month. The colorway I'm sending in for July is Frou Frou and it would be a travesty if it was left out of the Art Nouveau box!
So, what are you up to this summer?