Hi everyone! I'm sorry this is late. I got back from Boston on Sunday evening, absorbed dinner and proceeded to do nothing of use whatsoever for the rest of the day. But I can announce that the winner of
July's giveaway
is Lorraine! Thanks for participating, everyone! I'm percolating what to give away for August, and I have an inkling of a good idea. It depends on what I can get done in the next couple weeks.
Meanwhile, since I've already exposed myself as one of "those" fans, I've decided I should just go with it and talk about my recent visit to Boston and the concert I attended. *
cue excessive emoticon use
* :D :D :D
Before I get into my concert aftermath, I also want to wax enthusiastic about the lamp I bought on Saturday. It's the
Ikea Sunnan
solar powered desk lamp. I bought it to see if it would be suitable as supplemental lighting for my festival booth and by gum it is!
My yarn needs good light to be appreciated, and sometimes venues get dim if the weather doesn't cooperate. I've been looking for something battery operated so I wouldn't have to deal with a power supply. This trumps that with its removable solar charging battery. I also wanted the light to be strong enough and warm enough so the yarn pops even if it's dark elsewhere. It's definitely bright enough, and it's immeasurably better than the smaller lamps I've tried. The light is a touch cool, but it's by far the best so far. It's much warmer than the led lights that managed to make even my skin tone sickly. At $20 each, they're inexpensive enough for me to get at least 3, and the flexible gooseneck means I can aim the light anywhere I want. It was a fortuitous discovery and I'm ridiculously happy with it. :D
Now, speaking of lighting up....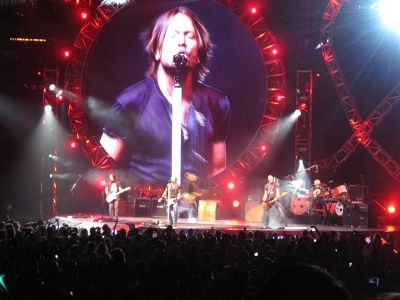 This picture is blurry, but I like it anyway. :D
More after the jump....
So, I drove up to Boston to take a dear friend to see Keith Urban for what would have been both of our first times to see him in concert except that I ended up seeing him in Nashville in that entirely flaily shenanigasm of awesome last month. This is the friend who introduced me to his music several years ago and started me down the road of "those" fannishness. The concert was an early birthday present to her and her slightly dubious about the music other half, and a blatant excuse for me to continue being one of "those" fans.
If I'm not clearly one of "those" fans yet, perhaps it would help if I explain that I will be seeing him also In Philadelphia and Newark this week. Fan club membership has access to the presales which make it easy to get inexpensive floor tickets and good "not quite so cheap" seats as long as one is willing to book ages in advance.
The crowd was a bit eclectic that night and I saw everything from a light up cowboy hat to persons who would not look out of place in a tweedy faculty meeting (perhaps unsurprising given just how many colleges are in the Boston environs).
I have to admit that I have no interest whatsoever to the opener Jake Owen, despite the fact that I will be seeing him repeatedly. He tried
really hard
to engage the crowd and play to the locale and such, but I don't know him from Adam and it just didn't work for me. It may have been the venue size; I know I've found a lot of performers very engaging in a smaller setting. He had adherents in the group, though, and there were people singing along and two women who had gone right up to the edge of the stage and danced during his whole performance.
The rehearsal in Nashville in no way prepared me for the full concert experience. When Keith Urban and his band took the stage, the entire arena STOOD UP and welcomed him with loud approval. Not only that, the whole place swelled with the audience singing from the very first song. I had worried that the crowd might be a little undemonstrative but that worry was washed away the moment the lights dropped and the music started. People stood the whole night and sang the whole night and it was unbelievable and
fantastic
. I seriously have no words to describe the energy of the place; there was so much enthusiasm and exuberance, but it never crossed the line. It was joyful and fun and comfortable without being commonplace.
The performance was an utter delight. One of the reasons why I love this performer's work is that Keith Urban is an unabashed goober who doesn't shy away from the kitsch and the over the top, but nods at it. He enjoys it, and he uses it so well, and it's so very endearing. I mean, he has a light up guitar! You can't get more absurd than that, but it works! Then there's the mirror ball. It turns into this AMAZING lighting effect that totally trumped the cheese of having a disco ball at all.
I also love that he knows when to pull it back and that the songs that really shine from a simple performance are so delicately done. Keith Urban, an acoustic guitar, a spotlight and
maybe
some light accompaniment, and the whole room is
still
singing along, hearts in throats. It's gorgeous.
I didn't take too many pictures because I wanted to be in the moment but I still managed to end the night with 21 shots that were good enough to edit down. So here they are with some comment here and there. Um, lots of them are of the spot light crew because I could
not
do that job!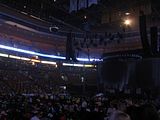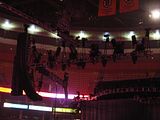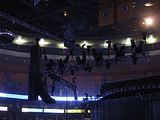 Spot light crew with their cushy chairs and their seat belts. There was a bit of interaction with the crowd before the lights dropped. Can you imagine what it must have been like sitting under that thing? The first shot of the three was about 10min before Jake Owen took the stage, and you can see how many seats were still to be filled.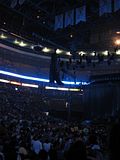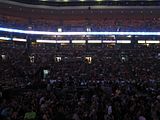 This is an "after" shot during the switchover and you can see how it's filling up. The second shot if of the tech booth. It was too difficult to find all the cameras they had in the arena to edit into the plasma screen, especially since so many of them must have been hand held. I think whoever was editing on the fly got a little too fond of using the "posterize" effect, but I didn't mind so much as it let me focus more on the actual performers.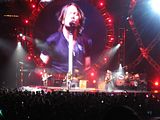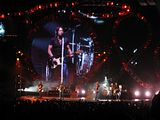 The Beatles started playing over the sound system, the house lights dropped, and the band took the stage and the music shifted into Put You in a Song. I think. I honestly have very little memory of which songs were performed when, I just know that he hit quite a few of my "would like to haves".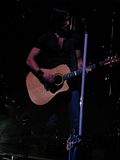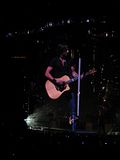 A quieter moment. It really amused me how many camera and camera phone screens were visible in the audience at any given moment. It was almost like a secondary lighting effect.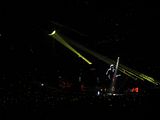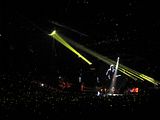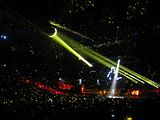 These are seriously my favorite shots of the evening. The middle picture is the first one slightly tweaked for contrast to be a little more accurate, and the last one is insanely blurry but it gives a much better idea of the lighting effect. This was during Long Hot Summer (one of my favorite songs off the album, I love the clever use of language in the lyrics). He sang about stars coming out and proceeded to fill the arena with the Milky Way using spotlights and that mirror ball. How can I scoff at a disco ball ever again? It was a
brilliant and inspired
use for the thing!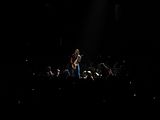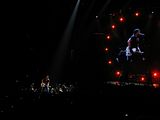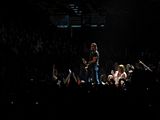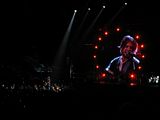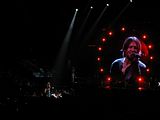 Of course, since the theme of this tour is "getting closer", he performed on this tiny little stage in the floor section. It's the little circular stage that lifts up, but for most of the performance it was at this lower height. Talk about getting closer! And this wasn't even what I call his crowd crawl! He did that later, towards the end of the show, running out into the Loge level almost directly opposite us on the other side of the arena. He stood on a chair, finished his song, signed his guitar and gave it to a person in the crowd and then ran back to the stage to continue the show. That's
standard
for his performances, it's not something new for this tour.
I don't have any pictures from the little sing-off he had when he pulled 3 audience members onto the stage. He had them all sing a verse and then asked the rest of us to applaud who we thought was best, and that one was then pulled to the front of the stage to sing the verse again like they were the star. I thought the first woman he pulled on the stage was going to faint from being so overcome. He pulled a man on stage who was so enthusiastic that he ran with the whole performance, and another woman who warmed up to it really quickly and danced and reveled in it. Needless to say, the man (who was hilarious in his exuberance) won and got his chance to perform with Keith while the other two sang backup with the other band members. It was once again so much joy and empathy, no mockery but just good natured enthusiasm.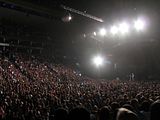 He also does call response and some other things, but I like this shot for the scope of the crowd standing and rapt in attention. There's a stage eye view of the arena
here
. Amazing, seriously.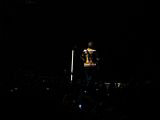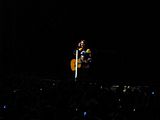 Once again, all my shots are a little blurry but here he is in a Bruins jersey, with "Urban" on the back "in case he forgets his name". He performed his encore in that jersey and then took it off before leaving the stage and gave it to an audience member.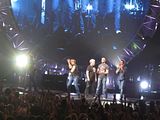 And this is the whole band, although Brian Nutter is pretty much obscured by that light. Keith is throwing his wrist bands into the audience. Chris McHugh had thrown his drumsticks into the audience earlier and I couldn't help thinking that that wasn't perhaps the safest thing to do. But picks and wrist bands are something else entirely.
I'll be in the scrum on Thursday and Friday with my cheap floor seats, which are seriously the best seats in the house when it comes to concerts like these. They're up close and personal, although a bit chaotic. I doubt I'll nab any random bits of paraphernalia thrown into the crowd, however, because there's no telling where my seats are in relation to the stage, and also because I can't catch worth a damn. :P