I'm up to my elbows in hot, wet wool but I had to leap in and post the next giveaway. I hope you'll love this one, because I do! July's drawing is for a delicious set of moisturizers from
Urbbody
.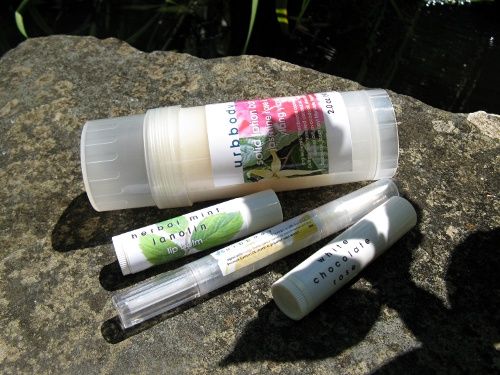 Solid lotion, cuticle balm, and two lip balms.
Urbbody
is an old friend of mine from waaay back, and her products have been delighting people since 2007. The set I am giving away has one solid lotion in the Jasmine, Rose and Ylang Ylang scent; one cuticle balm in Lemon; and two lip balms, one vegan White Chocolate and Rose and one Herbal Mint. The cuticle balm has a handy applicator brush built in to the tube.
I'm also going to add in a small KIP bag from
Ruddawg
that I received in a past Phatfiber box, as well, as a carry-all. It's not pictured here, but it's a red print.
To be entered in this drawing, all you have to do is comment here with what your favorite fragrances are for bath and body. Do you have a dream fragrance no one makes? Let us know! And it wouldn't be amiss to go and visit
Urbbody
and take a look at her wonderful products, too. She has licorice and donut scented perfume. Who could resist that?
The giveaway closes on July 7th, and I'll pick a winner out of a hat on July 8th.