2! That means Deb is the winner of the
July 1 giveaway
for some delicious
Urbbody
products and a KIP bag from
Ruddawg
. ... I just noticed the double letter confluence in both shop names. That's pretty funny. :D
Deb, please contact me with your address so I can send out your prize!
Meanwhile, I'm busy making stitch markers, labeling yarn, and editing yarn pictures. But I did get one thing done today. I've finally listed yarn samplers in my shop. These have the same composition as my Phatfiber Box samples.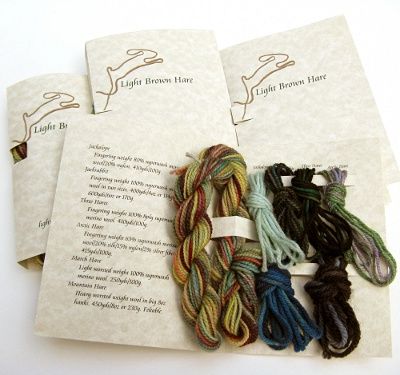 A sample booklet with 6 yarn snips and a mini-skein. This picture links to the listing.
These samplers have a mini-skein with about 20yds of yarn, and 6 snips of all the bases at about 2yds each. They cost $4 plus shipping, and they come with a $4 coupon off one's next purchase. The coupon is good for six months, so there's plenty of time to touch the yarn and swatch before deciding.
I've been thinking about offering samplers for a long time. It's practical and low commitment compared to a full skein of yarn purchased on the merit of pictures and feedback alone. I know that I'm always curious about the hand of yarns before I buy them. My Phatfiber Box sample format is perfect for this application as well, so it was a natural extension.
The yarn is all random colorways, assembled from what I have available. The mini-skein in all of the packets I have right now are in the Dutch Iris colorway on the Jackrabbit base. I can't guarantee being able to switch out the mini-skein for a different base yarn, but if asked I'll definitely look through the yarn I have reserved for samples and try.