First up, a reminder! Today is the last day to enter in on the
Ice Cream Social giveaway
. Free ice cream, what's not to like?
Secondly, I bought a new hammer. I decided to upgrade my stitch marker making tools and retire the hammer I've been using. It's a serious upgrade, too. Before and After.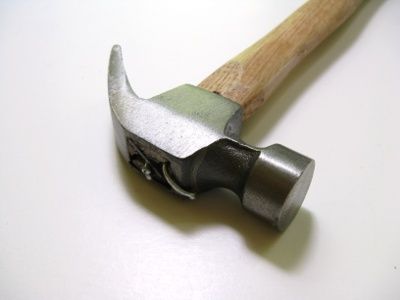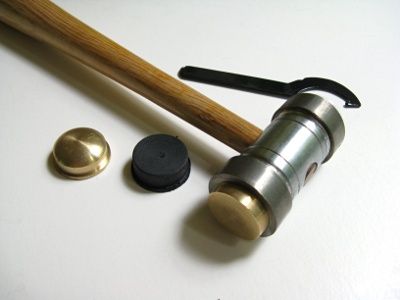 That would be a dollar store hammer on the left, that I had to pound nails into because the head wanted to fly off every time I used it. Yes, I used a dollar store hammer. What can I say? It served me faithfully all these months. Meanwhile the new hammer has 4 interchangeable heads and is much heavier and smoother. I haven't tried it out yet, but I think it's a good change.
Thirdly, I received my July Phatfiber box yesterday and I have pictures of course! July's theme is Seaweed, Ships and Scallywags. Arr thar mateys, thar be hidden treasure in this here jump break!
In no particular order: Seaweed, Ships and Scallywags!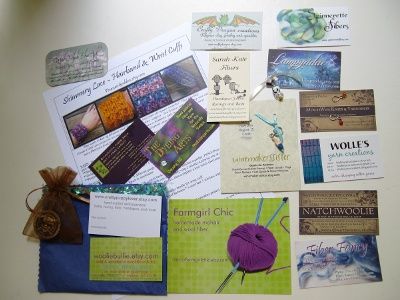 Cards and more from
Farmgirl Chic
,
Crafty Dragon Creations
,
Spinnerette Fibers
,
Sarah Kate Fibers
,
The Dyeing Arts
,
Bitsyknits Fiber Arts
,
Crafty Puppy Lover
,
Wooliebullie
,
Natchwoolie
,
Wild Orchids Fiber Arts
,
Fiber Fancy
,
Wolle's Yarn Creations
Treasure Goddess
- Shimmery Lace pattern
Winemaker's Sister
- mermaid stitch marker
MouseWife Knits & Yarnables
- two beaded stitch markers
Lampyridae
- skully stitch marker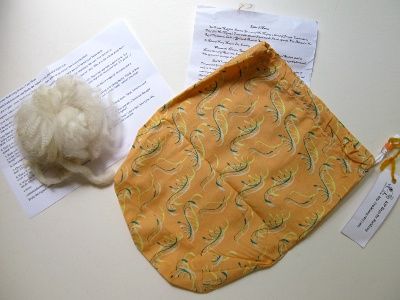 A Snorgle of raw alpaca fiber from
Comfed Out Kaiser
, and a KIP bag from
Ruddawg
!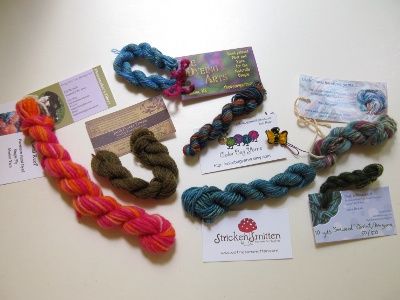 Yaaaarn:
Stash Enhancement
- qiviut/angora "seaweed" (hands off me loot!)
Jag's Funky Fibers
- upcycled "seaweed"
Fleecemaker's Fibers
- merino handspun "coral reef".
Cool Climates
- wool/mohair/bamboo/tencel/thread handspun "Inishmore"
The Dyeing Arts
- merino/tencel "Sargasso"
Stricken Smitten
- merino/silk "The Mermaid's Tale"
Color Bug Yarns
- merino superwash "Maritime"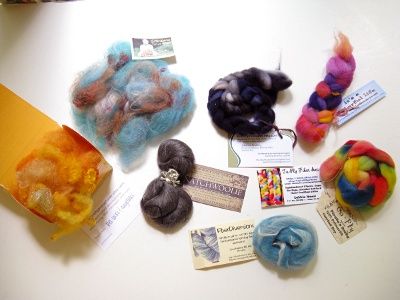 Thar be Fluff!:
Giffordables
silk/sari silk/soy silk/milk/merino/corriedale/alpaca/angora "Caribbean"
Ever Improving Me
- superwash merino "Any Port in a Storm"
Crafty Puppy Lover
- bfl locks and angelina treasure chest
Natchwoolie
- fine alpaca/mulberry silk "The Black Pearl" (squishes obsessively)
It's a Colorful Life
- merino top "Ocean Sunset"
To-Ply Fiber Arts
- polworth top "Pirate's Booty"
Fiber Diversions
- alpaca/rambouillet/soy silk "A Pirate Looks at 40"