A small baking and knitting post tonight.
I'm constantly on the lookout for cookies that are satisfying but have some sort of redeeming dietary merit. So I took a chocolate chip cookie recipe and changed a few things and I liked the result enough to record the recipe here. These cookies still have butter and sugar in them, but they also have fiber, iron, whole grains, and protein.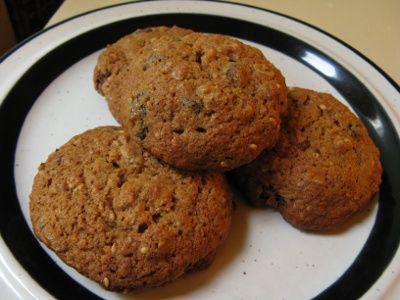 1c (2 sticks) butter, about 1/4 melted.
1c (200g) sugar
1/4c (80g) dark molasses
1 tsp vanilla
2 large eggs
2c (280g) white whole wheat flour
1/2c (24g) bran (wheat or oat)
1c (90g) rolled oats
1 tsp baking soda
1/2tsp nutmeg
1/4tsp cinnamon
1c chocolate chips
1/2c raisins
1/4c toasted sesame seeds
1tbsp toasted flax seeds
Cream together the butter and sugar and then stir in the molasses, vanilla, and eggs one by one until it's thoroughly blended together. Stir together the dry ingredients and then mix them into the butter mixture until thoroughly combined.
Drop by heaping tablespoons full 3 inches apart onto pans lined with baking parchment and bake in a 375°F oven until deep golden brown. They will be soft to the touch. Cool on a rack before storing. The cookies remain soft and slightly cakey once cool. Makes about 4 dozen.
Substitution is the name of the game, of course, so butter subs, egg subs, sugar subs can all be worked in. As it is this recipe is soft enough to accept more solid things like chopped nuts that won't change the essential nature of the dough. Additional oatmeal would result in a firmer cookie, but it should be able to accept another half cup of rolled oats without becoming hard.
Meanwhile, back at the knitting, I'm working on a modified
Arabesque
top, translating it into a dress with a different yarn at a denser gauge. I finished the waistband tonight and I'm very chuffed at how it's turning out. Yes, I know it's nothing more than a ring of cabled fabric. What can I say, I
like
that ring of cabled fabric! Aside from the tension difference in the rows around the graft, I think the join is decently invisible.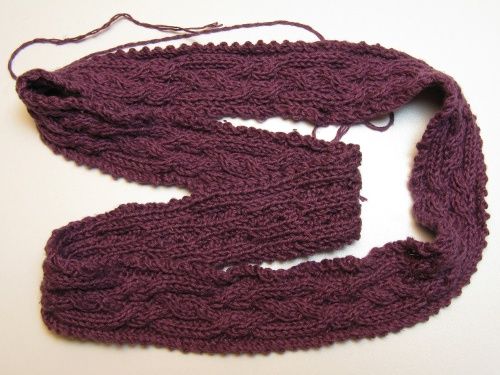 Considering that I'm not normally a sweater knitter and I prefer working in DK to worsted weight, this is a bit of a departure for me. Of
course
I would decide to break that trend with a dress knit at 7.25st/in. But I'm excited and I think it might even look flattering on (once I offer concessions to self consciousness and toss a light linen shirt over it like a jacket or knit a shrug). So I'm not going to examine this urge too closely but feed it for as long as I can, because I really want to wear this! :D