A friend had a really great idea. Why not just give away something yummy once a month? So this is a "silly" giveaway. It's frivolous, and only fiber arts related in the most tangential way. But I like the idea a lot, so here is the first of my ice cream giveaways for this summer.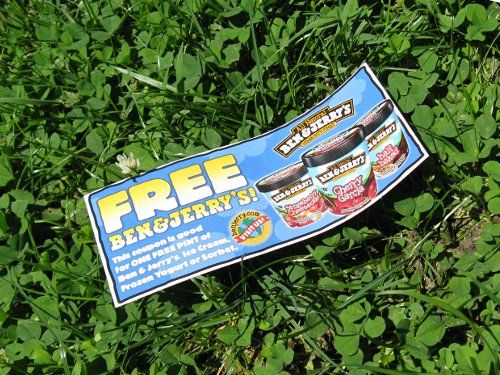 Comment to this post by Saturday, June 19th to be included in the random drawing for a Ben & Jerry's free pint coupon. This time, I'd like people to tell me a story about their family or a family story. It can be anything, really, and please do use all sensible internet discretion.
The coupon expires March 1, 2011, and is only valid in the US, sadly. But I don't want anyone international to be left out! So comment anyway, and if you win I'll send you a small surprise instead. :) I'm giving away another coupon through my
Ravelry group
, and I will accept an entry here and there, but folks can only win one of the two being offered up this month, in order to spread the joy a little.
A family story of mine, learned at dinner last night, after the jump.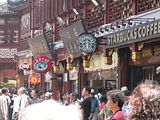 Yu Gardens shopping complex, Shanghai, 2008
So we were having a conversation, as we do, about my parents going to University in Taiwan, and talking about class and race and things of that nature. Somehow it morphed into the revelation that my maternal grandmother was in the 21st generation of the family descended from the first
Ming
emperor's older sister.
More surprising than that was about the property, however. Apparently her son was a prominent general serving the Emperor, and committed suicide not long after a visit from the him (a lot of convenient and/or mysterious deaths occurred around him). And the Emperor felt so strongly about this event that he gifted his nephew's family with a large parcel of land. And the family
kept
that land all those centuries until the upheaval of the Sino-Japanese war drastically changed their fortunes and then later the Cultural Revolution took it away entirely.
So, they kept their land longer than the Ming dynasty existed, and through a dynastic change. It took a war and a revolution to take it away. Not unlike how they got it in the first place.
What this means, of course, is that I'm descended from peasants on both sides. But one has to go digging a lot further back on one side than the other. XD
I liked the stories told about the Ming emperor, who was a peasant of Han blood, no doubt to explain/legitimize his claim as Emperor in a culture where the one who sits on the throne is supposed to be the son of Heaven.
One was that his sister, who took care of him as a child, had set his diapers out on the bushes to bleach in the sun and the thorns on the shrubs would tear the cloth. In frustration, she admonished the thorns, telling them they should grow in the other direction so as not to tear her brother's diapers. And much to her surprise, they complied so as not to inconvenience the infant Emperor-to-be.
Another was that when he was camped outside as a young man, sleeping, and a monk happened upon him and saw him sleeping with his head pillowed on a bamboo carrying pole (扁擔
biandan
). He was spread eagle, and his body and the pole created the character for "sky" or "heaven": 天
tian
. Then he shifted and curled on his side, creating the character for "son" or "child": 子
zi
. The monk was astonished, to say the least, to see this sleeping boy spell out "Son of Heaven" with his body.
Another was that as a young man in the monastery, one of the Emperor-to-be's tasks was to regularly take out the little statues of the gods into the courtyard and dust them. There being so many statues, one day in frustration he told them to go out and dust themselves. To his shock, they all got up, trooped into the courtyard, shook off their dust, and then trooped back in.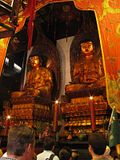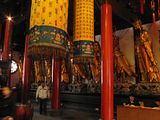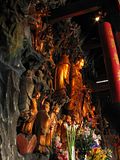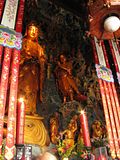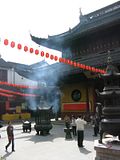 Pictures from the Grand Hall and the courtyard of the Jade Buddha Temple, Shanghai, May 2008
So, that's my story. Tell me something about you! :D