The winner of the first
Ice Cream Social giveaway
is Renee G.! A bunch of fun and interesting stories came of it, and I had a really good time reading the responses. I highly recommend reading through them! Some are laugh out loud hilarious.
The next giveaway is scheduled for July 1, and is something I hope you'll all enjoy. A bit of pampering for hard working hands is what I'll leave it at for now. :)
Meanwhile, here's another little teaser of what I've been dyeing up.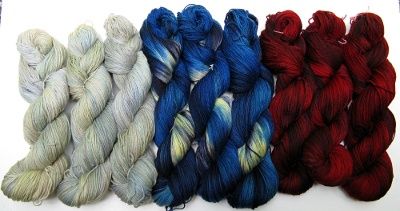 The colorway in the middle is a new one I call
Starry Night
. I
love
how it came out. It's realized what I wanted to achieve more beautifully than I had anticipated, and I'm debating attempting it in a different base.
I'm pretty strict about not crossing Jackalope and Jackrabbit colorways. The different bases all take dye differently, so it's very unpredictable moving a colorway between bases. Still, I love love love it, and all I can think is how the heavier texture and brighter sheen of the Jackrabbit base would be more suggestive of oil paint than the Jackalope it's currently presented in. So, we'll see. Perhaps if I have a few skeins left undyed at the end of the next big push.
In other things entirely, today is Father's Day and we had a pancake lunch with hot smoked salmon and assorted tasties. More and a pancake recipe after the jump.
This post is late today as we went to pick up my brother and his family from the airport. They live abroad, so it's always exciting when they come home for the summer. It's also always amazing how much more grown up the kids are when we see them again in person after months. Where does the time go?
Still, today we managed to pull together a delicious little meal tailored to my father's tastes. He got up at
5am
to go to a friend's farm to pick vegetables so he can bring them to two food banks in the area in the morning. So the least we could do was make him lunch!
My pancakes were all funny looking due to cooking outside on the gas burner attached to our barbecue grill. It gets hotter on the lowest setting than the medium-high I like to use with our electric stove (6 on the dial), so these flapjacks cooked FAST.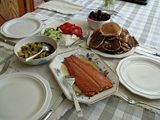 The recipe, however, is ridiculously simple.
Midnight Pancakes - Makes a big plateful as seen in the picture.
3c (420g) White Whole Wheat flour (or regular red whole wheat which is stronger in flavor and deeper in color, or all all-purpose, or half and half which is what I used today)
2tbsp+1tsp baking pwd
1tsp salt (optional, Argo baking powder is really salty, so I leave out salt when I use it.)
2tbsp sugar
2.5c milk
2 beaten eggs (I used 6 egg whites)
6tbsp melted butter or oil (I used oil)
Whisk the dry ingredients together, add the wet ingredients and whisk until well combined. Add a few drops of oil to a hot pan and fry the pancakes, flipping them when lots of bubbles start forming. Make sure to add the oil to a hot pan, or the pancakes will stick. Also, these can be very thick, so make sure they cook through. Turn down the heat if they're getting too dark too fast, and if the batter is a bit too thick add more milk or some water to thin it just a little. A scoop of batter shouldn't spread too fast.
This recipe is so easy that I've been known to make pancakes at midnight. Thus the name.