It took me a while to code everything, but now that I have I can post who won the drawing for this skein of yarn.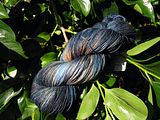 Congratulations, AbsoluteGillian!
Email me to confirm your address, please, and I'll get this in the mail for you on Monday.
Thanks for playing, everyone! You all left a fantastic list of really wonderful and varied Etsy shops. So I've included the list after the jump. Please do go visit and ogle the lovelies! I hope you'll be back again soon. I have lots of plans for fun giveaways in the future. :)
Meanwhile, I'm going to the
Renegade Craft Fair
in Brooklyn tomorrow to see what it's like. If it's yarnie friendly, I might try and get a table next year. Here's hoping it's cooler and doesn't rain on us all! And next week I'll be dyeing up more yarn. :)
Before the list of fabulous shops, I shall leave you with a "sample" of what I'm treating myself to tonight - Chocolate pudding, frozen in my Donvier ice cream maker, sprinkled with toasted pecans. So easy and decadently delicious!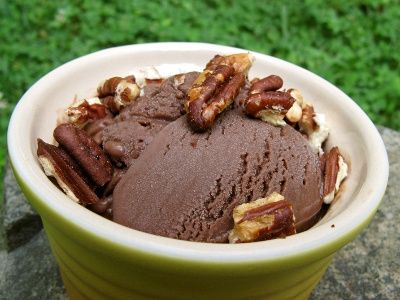 Goodies:
Alessandra Fusi's Infinitales
– art prints, jewelry, accessories
ALLWILDJEWELS
– vintage beads, findings, etc.
Alona Lahav
– jewelry, home items
Beadsidemyself
– bead jewelry, etc.
Catherine's Trashion Fashion
– jewelry
Center Hill Clay Works
– pottery, including yarn bowls
Doodlage
- artwork, some unusual materials
edmdesigns
– steampunk jewelry and accessories
The Fancy Lady Gourmet Cupcakes
– elaborate special occasion cookies
Hot4Handbags
– small pouches, wallets and bags.
Nadine's Nook
– spindle and project bags, stitch markers.
Kye Crow
– hand dyed clothing
Lady Sisyphus
– beaded jewelry, rosaries, etc.
Lavender Cottage
– sterling silver jewelry
Look For Fiddleheads
– t-shirt designs
Luna Stitch
– interchangeable needle cases
OruAka
– wooden jewelry and buttons
Petit Crochet
– tiny crocheted earrings
Poodledo
– beaded and quilted jewelry and dolls
Purple Mercury Cat
- beaded rosaries, dream catchers, etc.
Roosterick
– pewter buttons, etc.
Scarymerry
– polymer clay stitch markers, needles/tools, jewelry
Shay Aaron
– miniature food jewelry, etc.
Urbbody
– bath and body products
Winemakersister
– hand carved rubber stamps, stationery, stitch markers, personalized mugs, etc.
Ylfdragon's Den
– steampunk and wire wrapped jewelry
Yarn, fiber, etc:
Art of Xen
– yarn and fiber
Black Sheep Dyeworks
– hand dyed yarn
Blue Mountain Handcrafts
– fiber, bags, dye etc.
Bohemia Fibers
– fiber, spindles, yarn, etc.
Bohemian Knitter Chic
– fiber, handspun, wearables
Christina Marie Potter
– fiber, yarn, handspun, etc.
Color Bug Yarns
– fiber, yarn, tools and kits
Crystal City Fibers
– handspun, fiber, yarn, stitch markers, tools, etc.
Desert Garden Farms
– fiber, handspun, etc.
Lazy Perry Ranch (Epicurus)
– yarn, handspun, wearables
EverImprovingMe
– yarn, fiber, etc.
Exchanging Fire by Lady Danio
– stitch markers, yarn, wearables, findings
Fiber Fancy
– yarn, fiber, handspun
FiberLady
– fiber, yarn, handspun
Hampton Artistic Yarns
– fiber, yarn, handspun, etc.
KnittinK
– fiber and handspun.
LylianMae
– fiber and handspun, spinning tools.
Mama Jude's Plant Dyed Stuff
– yarn, fiber, felt, etc.
Phat Fiber
– the home of the Phatfiber sample box.
Pipps Purses
– felted bags and home items, pattern kits, and patterns.
Silver Sun Alpacas
– fiber, handspun, tools/equiment, etc.
Spindies fiber co-op
– indie fiber co-op
StormMoonKnits
- (on hiatus) yarn and fiber
The Gossamer Web
– fine gauge yarn, fiber, tools, etc.
The Plucky Knitter
- yarn
WhiteIrisYarns
– yarn, patterns