A year ago today, I officially opened my Etsy shop and tried to make a real go of this yarn dyeing business. And in the last year I've learned so much and done so much that my head it buzzing with all of it still. I vended my first festival, I made my first ad banners, I sent my work out there and people
came back for more
.
When I think about where I was a year ago and where I am now, I'm glad and hopeful and grateful. I came to this out of near desperation and it's giving back more than I can express. And I have so many people to be grateful to as well, good friends and family who've put up with this thing eating my brain and my time and my patience, and gone well above the call of duty helping out.
So thank you to everyone who has participated in this whirlwind of a year. I have so much still to learn and do to grow this business right, and I hope you're all with me through the next year as well. :)
And to celebrate all this and to launch this blog officially with something fun, the giveaway! Specifically, this skein of yarn: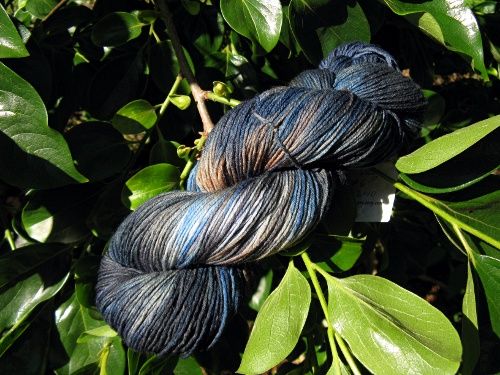 Three Hares, colorway: Colonial Day, hanging out in the persimmon tree
Details of this giveaway and more pictures after the jump-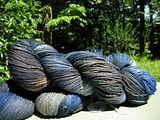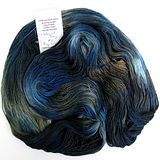 More pictures of the skein in question. It's deep blue and grey, streaked with brighter blues, white and khaki and olive. This colorway was inspired by the BSG FPB group on Ravelry and it seems fitting to start these giveaways with something that hearkens back to the group. They've been hugely encouraging and a big part of my first year. :)
All you have to do to be entered in this drawing is to comment here with one or more of your favorite Etsy shops.
I'd like to see actual shop names/links and why, not just a link to one's favorites page. (And not including my shop! That is, of course, understood. *cough*) And if you let me know you tweeted, blogged, etc a link to this giveaway, I'll add another drawing entry for each.
This is open through June 4, and on the 5th I'll pick a winner out of a hat. Don't forget to check back on the 5th to see if you've won! Or leave a way I can reach you. :)
I had thought to have everyone go to my shop and find something they like, like Jessie does for the Phatfiber giveaways, but this whole blog is about my stuff and I want to see what else everyone likes!
To start this off, I'll mention
Lavender Cottage
because I fell in love with a ring set. After visiting the rings almost every day for a month, I gave in and asked for a custom set of bangle bracelets since I don't really wear rings. The seller was fantastic and easy to work with, and I
adore
the final result. I bought this for myself to celebrate this year.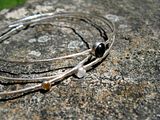 Sun, Moon and Stars as a bangle bracelet set in hammered silver
I have too many sellers that I really love and now that I've listed one specific thing, I'm going to cheat and link
my favorites
, because there are too many to list here. Although if
Urbhome
had any wool wash in stock, I'd definitely recommend it as well. Botanical wash with lanolin, eucalyptus, and lavender, it's been making my woolens soft and sweet smelling for months now. And of course, I can't leave out
Phatfiber
which has been instrumental in everything I've done and has contributed so much to the growth of my shop.
Penultimately, just in case anyone's missed it, I'm having a stitch marker giveaway in my Ravelry group that also wraps up on June 4th.
Just join the group and comment
to be added to the drawing for a Widget stitch marker. :)
And lastly because this is a party, some music!