I need a new pair of insulated gloves. There's nothing quite like handling hot yarn and having that creeping certainty that very shortly one will want to dance about going "OW OW OW!!!". Still, it's not bad for nearly a year. They're still usable, just not so great for protecting my hands from boiling water anymore!
I thought I'd show some in progress pictures of my yarn today, since I'm in the middle of dyeing up yarn for June/July. But first up, a reminder that the
Ice Cream Social giveaway
is still open and will be so through tomorrow. I'll pick someone out of a hat on Sunday. C'mon, you know you want it. It's free ice cream!
Also, I'm in another Treasury.
Americana Cat
in various fun shades of red, white, and blue.
Now, on to the yarny goodness!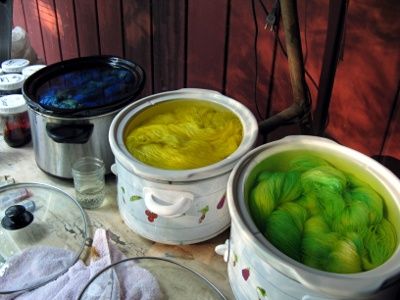 Mmm, the smell of hot wool and vinegar....
These are 3 of my crockpots, in the middle of the dye process. I usually dye three 100-114g skeins or two 170g skeins at a time. That's the most I can fit into the pots and still get results I like.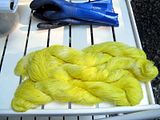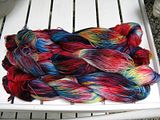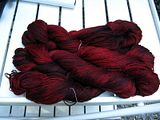 Three stages of the Poison Apple colorway.
These three shots are the beginning, middle, and end of the Poison Apple colorway. It's about half dry in the last shot so the colors are a bit truer to how it will look. It's a pretty dramatic change, I think, with about 8 stages.
So my secret is out. I get my colorways by successive over-dyeing. Not that it was any great secret (or that I was trying to keep it such). I do little to no hand painting of my yarn, it's all immersion dyed in small volumes of water, and then I steam the skeins to make doubly sure they've gotten hot enough to set the dye. This is one reason why my high contrast skeins have quite a bit of overlap in the colors. Since I don't hand paint, it's very difficult to keep divisions sharp. This is also the key to the depth and richness of color I achieve. Since everything is layered, the tonal differences are countless.
This is also why I've been having a hard time deciding how I will dye fiber since I can't handle it the same way I can handle yarn. Still pondering that dilemma.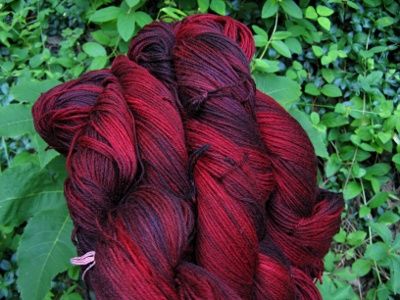 This is how they look with a less stark background. Reds never seem to photograph right.
I'd like to think that the time consuming, labor intensive techniques I use are why I'm so far behind my dye schedule this week. But they're not. I really have to step away from the computer and the forums earlier in the day!