I received my June Phatfiber box today, and as usual it's full of lovely softness. But I also cooked an off the cuff dinner tonight, and I want to record this recipe for posterity as I think it came out very well. So tonight's another double poster.
I basically made up a mango chicken recipe as I went along and it came out a very pleasant sweet/savory combination. The mango was too ripe for this application, so the texture suffered but it tasted good. We had it with a simple salad dressed with oil and vinegar, and rice.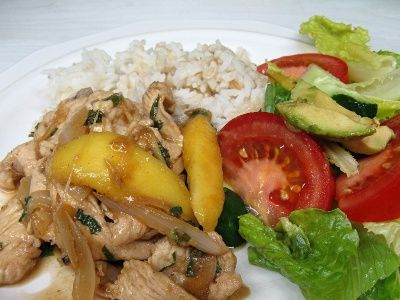 Recipe after the jump
I think using basil and a lime leaf or two instead of mint, and leaving out the cumin, would give it a South East Asian flair, but I liked it this way very much. If I had had a mild green chili pepper, I would have seeded it and added it, too.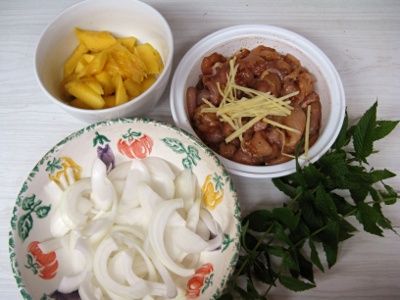 Mango chicken
- serves 3-4
2 (or more) chicken breasts, sliced about 1/8-1/4in thick.
a slightly underripe mango, peeled, the pit removed and the flesh cut into strips (my mango was overripe so it was soft)
sliced ginger
an onion, sliced
a bunch of mint leaves, chopped (or use chopped fresh cilantro instead)
a few tbsp of soy sauce
1tsp sesame oil
1/2tsp ground coriander seed
1/4tsp ground cumin
black pepper
oil for sauteeing
Season the sliced chicken with the soy sauce, sesame oil, coriander seed, cumin, and pepper using just enough soy sauce so everything coats evenly but it's not sitting in a puddle. Let it marinate while preparing everything else.
Add a couple tablespoons of oil to a hot saute pan and throw in the ginger. When it smells good and has started to brown, add the onions and cook until lightly browned. Throw in the chicken and the mint, and saute until nearly done. Add the mango and cook to heat through. Serve with rice.
This was very, very easy to make, and fast too. The most time consuming part of dinner was making the salad.