So
I
may be a little flaily because I have so very much to do and never enough time in which to do it, but that doesn't mean this post can't be well balanced, like a healthy breakfast.
Or this McMorran balance.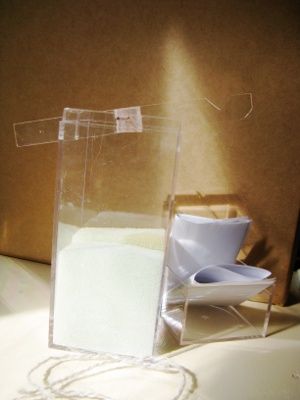 Yes, today I am giving away a metric
McMorran yarn balance
. These nifty tools are used to determine the meterage of a given quantity of yarn. The balance is very precisely weighted and when you drape a bit of the yarn over it and then trim it until the arm is level, the length of that remaining bit of yarn will tell you how much yarn per gram you have. Weigh the remaining yarn, do a little basic math,and Bob's yer uncle. The instruction sheet is included, but it's really that simple.
It's not as accurate with yarn that's slubby or thick/thin, but it can still generate a good ballpark figure. Can you do the equivalent with a scale sensitive enough? Yes, but do you have a scale that goes to at least 2 decimal points to the gram? If so, then you don't need this. Which would also be the reason I'm giving it away.
I'm a little fried and crispy around the edges so just comment with anything to enter this drawing, and remember to make sure I have a way of contacting you if you win. If you've got a fun yarn or fiber (horror or otherwise) story, even better. I'm going to let this one run all the way through Sunday the 6th and pick a random winner on Monday March 7th because my plate runneth over all this week. As always, you can double dip with the
Ravelry group giveaway
. That one is foam display heads this time around.
But hey! I finished my weaving.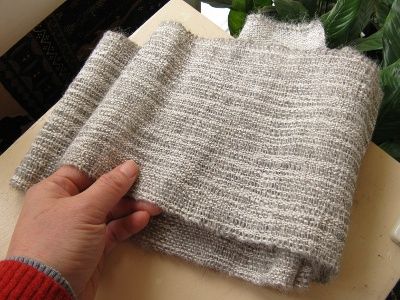 It came out 54in long after soaking it in hot water and the silk bounced back to it's pre-tension length. Ahh, relaxation shrinkage, at least I have a name for it. And I have decided I can never complain about weaving in ends in knitting again. I wove back
every single warp thread
along itself to finish the piece. I'm sure there's a better and faster way to finish a piece of fabric without fringe, but I was too impatient to research it. After all, it only took me 6 hours to weave in 100 warp threads. *facepalm*
The scarf is really light, but the silk gives it a bit of body so it doesn't feel insubstantial. The wool softened up as well and I'm really pleased with it. And I doubt I will ever need to weave anything again. That particular urge is well satisfied and my mother likes her new scarf.