So, yesterday was my birthday and for my birthday I decided I wanted to cook a very complicated dinner without concern about costs. Some of it was very successful and some of it could have been improved, but all in all I had a fantastic time shopping and cooking and cooking some more. Dinner was tasty, my plan for how to prepare and serve everything went almost without a hitch, and we ended the night full but not in distress from overeating. Considering the meal had 8 courses, this last was probably my greatest achievement!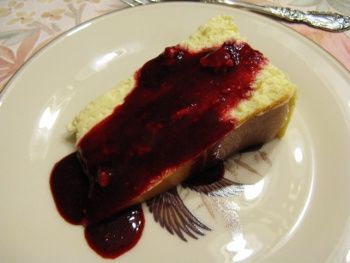 The menu:
We drank Columbia Crest Two Vines Sauvignon Blanc, one 2007 and one 2009.
Course 1: Seared duck foie gras with pomegranate molasses and toasted homemade focaccia. (duck plates)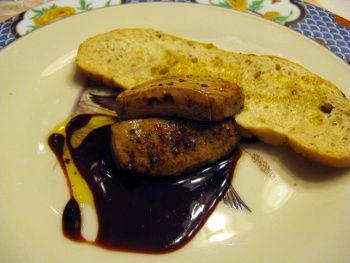 I've never had foie gras before, so I wanted to try it. It was the very last thing I prepared before sitting at table, searing it over very high heat briefly and throwing the toasted focaccia (homemade, too!) slices and pomegranate molasses onto the plate and worrying I'd overcook the liver. I made the molasses the night before by cooking down about 2.75c of Pom pomegranate juice to 4oz. Actually, I started with 2.5c of juice and then cooked it down so far that it started setting up when it got cool, so had to add a bit more and then boil it until it seemed just right.
The combination of the molasses and the foie was fantastic. The tart of the molasses seemed totally absent when eating them together, as the richness of the fat just swallowed it all up. Definitely a "do again" combination if I can ever afford foie gras again! That package of D'artagnen duck foie gras was the single most expensive item on the menu.
Course 2: Cream of tomato vegetable soup with fish and lemon. (phoenix coffee cups, 3/4c when full)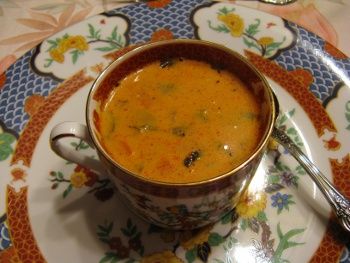 This was, unexpectedly, my favorite dish of the evening and the one I could eat repeatedly if needed. Since I made this up on the fly on Thursday, this pleases me. :D
The tomato base came from the juice of 2 cans of whole tomatoes the tomatoes of which I'd used for the red sauce for a later course. I browned garlic and a shallot in butter, added the carrot and cooked it for a while. Then I added celery and cooked it a bit more. Then I added pepper, salt, a small wedge of lemon cut into small pieces, water, thyme, and quite a bit of chopped parsley. I cooked it until the celery was just starting to lose its crunch. Then to serve, before I seared the first course I brought the soup to a boil and once I plated the foie, I threw in a cut up tilapia fillet and stirred it once. Covered it up and turned off the heat. We have an electric stove so it held the heat well. It was still hot and I just stirred in the cream and dished it up with no waiting. The fish was cooked perfectly and the whole thing is ridiculously delicious. The lemon peel is cooked tender and I like hitting one for a burst of lemony goodness. I'm also particularly pleased that this soup tasted nothing like the red sauce later in the menu.
Course 3: Crab salad with cucumber, lime and cilantro in a lettuce leaf with avocado & tomato slices dressed in lime and olive oil. (phoenix plates)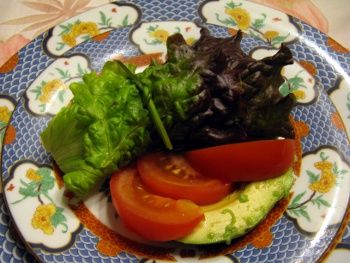 I am allergic to shellfish but crab is one of my favorite things ever. Still, I don't think I've ever had blue swimmer crab before. Little did I realize that it tastes almost exactly like good quality fake crab stick. If I'd known, I would have got that instead and forgone itching!
This was one of the dishes that didn't turn out quite as I'd hoped. Mostly because I was conflicted about what to do with all the salads when I was preparing them, so they all suffered in some way. This really needed a red bell pepper added to the mix, but I didn't have any. Still, it was light and refreshing and fun to eat. It didn't taste bad, it just didn't quite hit the savory sea and fresh cucumber lime cilantro crunch that I wanted. I tied the lettuce leaf closed with a blanched cilantro stem so it would be easier to eat. This was plated and dressed before dinner was served and kept in the fridge.
Course 4: Ramekins of mushrooms, shallots and leeks over spaghetti squash with browned butter, garlic and sage and sprinkled with parm before baking. (4oz le creuset ramekins)
This one was almost too rich, but I love it. I'd slightly overcooked the spaghetti squash in the morning so it lacked a bit of tooth but it still had structure so that was fine. I prepared a little bit of my browned butter with sage and garlic and olive oil mixture and stirred it in to the squash and filled the ramekins halfway. Then I sauteed a shallot and some leek in butter and a bit of canola oil. Added in sliced crimini and shitake mushrooms and cooked tender with a bit of thyme and pepper. I filled the ramekins with this and then topped it with grated parmesan. I put these in the oven about 15min before we started eating the first course and simply put them on a plate to serve.
I didn't anticipate how fast these would heat up so the parmesan became a bit like a piece of armor on top of the mixture. Next time, I'd mix them with bread crumbs, I think. Very tasty, however, but also a little bit went a long way due to all the butter and heavy flavors. A bit of chopped parsley in the mushrooms would have been a good idea but it didn't occur to me at the time.
Course 5: Eggplant parm (modified with a tsp of seasoned ricotta under the mozz) side of cappellini and red sauce. (white squareish plates)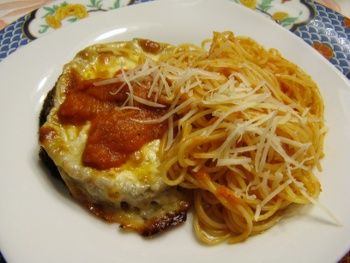 This one came out exactly as I'd hoped except that the oven was hotter than I'd initially planned, and since I put these in at the same time as the mushroom dish it over-browned. Still delicious, however. Overcooking the eggplant made it literally melt in the mouth. Also, I had to have noodles for tradition reasons (and because I love noodles), so this was the only place I could add them to the menu that made sense. Pureed the red sauce for this since it was very chunky as prepared (mostly onions and tomatoes with rosemary, garlic, and oregano). This way it would stick to the cappellini properly.
I cooked the pasta before we started eating, so it was just a matter of saucing it and the eggplant before serving. Since the pasta was still warm, a few seconds over a hot burner was enough to warm it up. It took less than 2min to plate and serve this one.
- Palate cleanser - Passion fruit granita (footed crystal liquer glasses)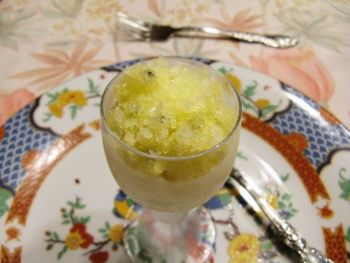 This was a last minute addition to the menu and I didn't even know if it would work. I had planned to use the two passion fruit I'd bought for the cheesecake, but I found a 1/2c jar of raspberry sauce left over from Christmas in the freezer. So I went with that instead and made a last minute granita.
This was the pulp and seeds from 2 passion fruit, 3tbsp of sugar, and 3/4c of water (tasty but could have been tarter, but I wouldn't reduce the sugar. Increasing the fruit would be ideal). Mixed together and put into a plastic container so it was only about 1/2in deep and let it freeze. I went and checked on it at about the 3hr point and it was the perfect consistency to smash up with a wooden spoon. I smashed it up once more in the afternoon after it had frozen solid. I also put the tiny glasses into the freezer so they wouldn't melt the granita at all. This was plated before dinner was served and kept in the freezer until ready.
Course 6: Pork ribs roasted with lime, coriander seed, cumin, etc.; cucumber/mushroom/onion/garlic/lemon/parsley salad; couscous with pan drippings. (white squareish plates - large)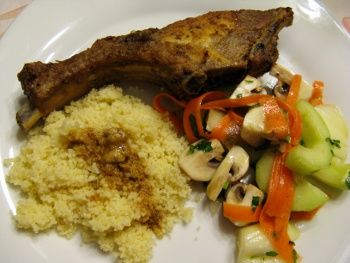 Needless to say by this point we were all kind of full, so the dinner portions were rather small. I had considered making lamb, but I was conflicted about cut so I went with what I consider a more forgiving cut of pork. I marinated them the night before with lime juice, cumin, ground coriander seed, garlic, paprika, cayenne, pepper, salt, thyme, and olive oil and then put them in the oven about half an hour before dinner was to start. I actually only served myself half a rib and not a full one as in this picture. The ribs ended up slightly dry but with great flavor. I think I should have had the oven lower for the whole thing. I had it at 375°F instead of the 350 I'd initially planned, and that threw off all my times.
The couscous was a little boring as I'd done no more than add a bit of olive oil, but the pan drippings and salad went well with it. Also, after all the rich food it seemed reasonable to not gild the lily yet again. The couscous was prepared before the first course was served and kept warm. I took the ribs out of the oven when I served the eggplant, and the salad was prepped in advance. It was very fast plating this one.
Course 7: salad of red leaf lettuce, hazelnuts, apple, lemon juice, olive oil, and a warmed chevre medallion. (phoenix plates)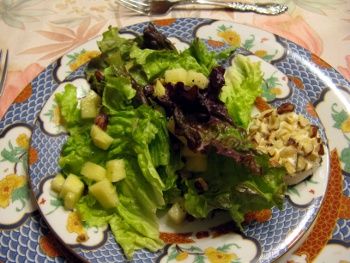 And then we finished with a salad. I really love the combination of chevre and hazelnuts. I'd toasted the nut encrusted cheese in a hot pan earlier and then put them in the oven to warm while eating the previous course. The only problem was that I didn't add enough salt to the apples that had been soaking in lemon juice so they ended up a little disconcertingly tart. The apples in lemon juice and olive oil were the dressing, and the lettuce was on plates in the refrigerator. It was just a matter of sprinkling on the nuts and the apples/dressing and then adding a chevre medallion to each plate.
Course 8: Cheesecake with raspberry sauce. (duck plates)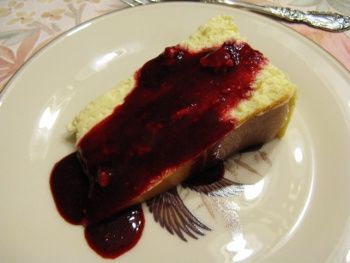 It would have been prettier if I'd poured the sauce on the plate first, but I wanted lots of sauce. :P Very creamy and delicious. This came much later when we felt we had enough room for it.
Other than the slight hiccups with timing or execution, it really worked out well. We finished through course 7 about 2 hours after we sat down to the table, and serving was astonishingly without a hitch. We were very full by the end of it but not yet uncomfortably so. I know I could have made the portions smaller and it would have been good, but at a certain point I just went with what was easy. I think one reason this worked out all right was that I had such a large quota of vegetables in the meal. There were three salads as well as three dishes that were mostly cooked vegetables. That helped balance the richness of the menu in general.
This was a lot of fun, a lot of work but the kind of work I enjoy when I'm left to it, and since the portions were small we have enough leftovers and components for a week of meals. So, in the grand scheme of things it wasn't even that outlandishly expensive.
I only used two recipes for the entire meal, the dough for the focaccia was a riff on a pizza dough recipe, and the cheesecake recipe is an old family favorite I got from a friend in college. Everything else was out of my fevered imagination for good or ill. And I already have ideas about what I'd do the same or differently next time. :D