First things first, I should have done this yesterday but I was figuratively snowed in under digital photographs. The recipient of this month's
giveaway
of itty bitty needles and yarn miniskeins is Rebecca! I'll be emailing.
Meanwhile, back at this also figurative ranch, I have
finally
updated the shop again, and will continue to do so as I can get the pictures done. Not with the entire backlog, that's still overflowing. I have pictures for a few more things including Silksheep fiber and some Arctic Hare, and I want to get that done asap. Still, I've listed the entire backlog of Jackrabbit. It feels really good to have 6oz skeins back in the shop.
I'm still amused by the Cobalt colorway in Jackrabbit.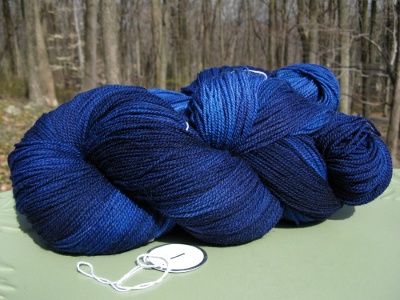 I did a few "looks like a semisolid even if it isn't" in what could be considered a straight "color" instead of a "colorway" for the festival last autumn. Mostly for completeness' sake because I always have big gaps in my spectrum. Of course
no one
paid any attention to those colorways. I should really stick with my strengths and leave the rainbows to other people.
Still, I'm rather proud of Cobalt as I think it manages to capture that almost cadet blue of the lighter portions but the inky purple tones in the deep parts that cobalt colored glass has. Well, depending on what one considers cobalt blue, of course.
More nattering under the jump cut.
Meanwhile, editing pictures for long stretches tends to make me punchy. It's really tedious and my computer was being all kinds of slow and cranky so I had to shut down my browser for the duration and thus shut off the audiobook I was following (
The Man Who Was Thursday
on Librivox). So, of course, this is the state I get into when I have to think up new colorway names. It once led me to name something "A Kind of Duck", it gets that bad.
Anyway, this was the one that stumped me this afternoon. It's not in the shop yet. It's one of the colorways I played around with in March and I don't have a full set of pictures of it yet because I ran out of light on Friday.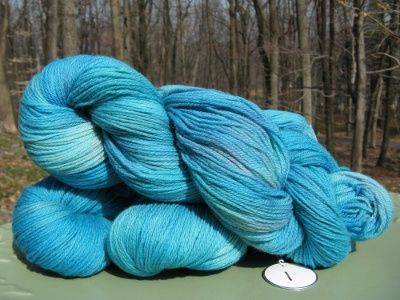 After searching through pictures of lagoons and azure seas, I finally came up with a pun so very bad, so truly painful, that I doubted even I could consent to use it. But of course once I thought it up it was inevitable. So I have named this colorway "Figuratively
Littoral
". And of course now I can say it's literally figuratively littoral and *really* watch people roll their eyes.
At least it's a pretty color! If a wee bit on the bright side....
It's supposed to be warm this week. Actually, tomorrow is supposed to be downright hot. I have too much to do tomorrow to get out the dye pots, but I fully intend to set up my workstation and get a proper few days of work with the colors done as soon as possible. I am
very
eager to be able to work outside again. It's so much faster and easier!