I'm home and chipping away at the work I need to get done, but I wanted to post about this before the details became too hazy.
I haven't gone away on a trip in several years, so I was excited for a lot of reasons and not just the obvious. I had to remind myself repeatedly that I am actually capable of being a grown up in public and traveling to a strange city where they speak the same language as I, without getting permanently lost. Also, I took this trip with an old friend from grad school (Julie) and so would be able to make her navigate. This is very important given how I've turned getting lost into an art form.
First observation on the plane was that the river does some amazing things to the terrain. Second observation in the airport is that Nashville Int'l Airport is
tiny
. I realized over the course of the four days just how pocket sized Nashville is. With the car, we were never more than 20min away from anything, and that was if we hit rush hour traffic. Mind you, I realize that I may have unrealistic expectations growing up with New York as "the city" and Newark as "the airport".
So, Nashville was FOURTEEN DAYS into a heatwave of 90°F and up weather the day we arrived. The day we left, they were excited because Sunday was forecast to be "only" 89. It was a heat that just sapped the energy and turned us into melted puddles of people. The normal temperature for this time of year is a good 10-15 degrees cooler.
Thursday
was the day of the event and we got up early to visit the
Parthenon
first. It's a full sized replica of the Greek building, but with all the friezes, etc, intact.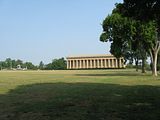 It was just the right size for something to occupy the morning, but I'll spare you pictures of the interior. There's a giant gilded sculpture of Athena inside, as well as replicas of the original stonework, etc.
More chatter and pics after the cut.
After the Parthenon, it was time to find some lunch and go to the event. It was so hot, however, that we had zero appetite and Julie was dangerously overheated. So we sat in the arcade in the business district and ate ice pops until things were better and went straight to the venue.
The event was a private rehearsal with Keith Urban and his tour band. He had invited press, family/friends, and a segment of fans to this event. Some articles say
300 people
and some say 500. It was unbelievably small for the space.
This brief article
has a bit of attached video.
Because I wasn't the first or runner up winner, there wasn't anything for us to do beyond enjoy the event. I know there was a meet & greet right before the show started because I've read about it after the fact. We managed to miss it. It was one of those things where if you weren't standing in the right place to be called, they would just move on to the next person on the list. That was a little disappointing, but I know they were running late and moving through things really fast. The rehearsal itself was fantastic, stops and stumbles and all. Actually, I like it better for the stops and stumbles and mistakes. It was charming and fun feeling privileged to see them make mistakes without the need to cover them up.
He said they were going to do about 45min of material and it ended up well over an hour. He opened the event explaining that they'd never done this before and that he was nervous so we had to sing. And he repeatedly asked us to sing along for encouragement. Given that we were a tiny group for the size of the venue, it was hard filling that space up with sound when it was just us. I tried to help, but given that I can't hold a tune with two sherpas and a bucket, I don't think I helped that much.
These are some of the songs he performed, although not in this order: put you in a song; without you; you'll think of me; you look good in my shirt; days go by; memories of us; you gonna fly; long hot summer; who wouldn't wanna be me. I'm probably missing a couple, and I know he did a cover of Boondocks by Little Big Town as well.
I loved the set design, so here are my pictures of the event. I did the best I could without flash, and I think it worked out well enough. There was quite a bit of light at times. That big rail on the stage and wrapping around is a framework for lights and some run along it like a roller coaster.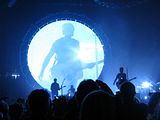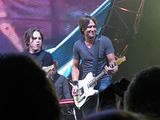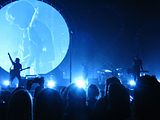 That big round screen cuts between live shots of the band fed from cameras around the stage, to light show elements and recorded video elements. When he performed Without You, the images that were projected on the wall during the music video play on the screen. During the cover of Boondocks, the music video for that song was cut into the screen at times.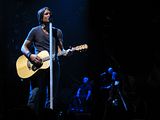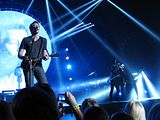 These two delight me because in the first one, Chris McHugh is playing a box. According to Julie, he was playing the box with his microphone. And in the second one, Danny Rader is given a chance to sing a bit (as they all were) and KU, Brian Nutter, and Jerry Flowers are having a great time as backup.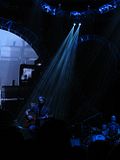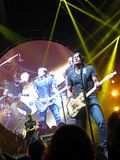 I like the lighting effect in the first one and the second one, while blurry, has all the band members in it because of the screen.
So, if it's not clear from the pictures, there were about 4 people in front of me before one hit stage. The stage actually has a sloped edge that creates a little space rather than a straight drop with a fenced off buffer area. So he and anyone else can run off the stage at any point whenever they want, which he did. He has a little mini-stage that's just a round platform on a hydraulic lift in the middle of the groundlings pit. So he ran off the main stage, made his way through the crowd and onto the platform, and went on with the show. At the end of that interlude, he held true to his usual mo and gave away the guitar he'd been playing even though the crowd wasn't too dense to navigate if he'd wanted to.
I did bring a skein of yarn to give to him, but since we missed the meet and greet and ended up too far away when he shook hands after the performance, I gave it to the friendly staffer who had checked us in. She promised to bring it back to the offices, so there's a chance he'll actually see it. Given that the tour starts in less than 2 days, I doubt he's focused on much more than preparation, however. Especially since he also had the
CMT awards
and the
CMA festival
last week. (I like
this interview
from the next day. Also, how funny that I named the yarn after a W. Jennings lyric and WJ is
an influence in the tour
.)
And, oh yes, I did finish
the dress
in time to wear to the event. But I have no picture of myself wearing it there because I actually have not a single picture of myself on this trip. I hope to get a good picture of it in Boston, though, and that will be after I do a few structural things to it to keep it from stretching out during wear.
After the rehearsal, we went wandering around looking for food and something to do. It was still early, so we walked around Broadway a bit and then ended up back at the same Japanese restaurant we'd been to the night before. Dietary restrictions were in play, and unfortunately most of the restaurants in easy reach didn't fit the needs. One of the things during that slow wander up and down Broadway, though, was we "saw" Jerry Springer. Here's a really bad kinnear of him.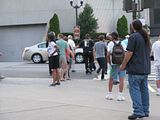 According to the gent with the long hair on the right hand side of the pic, JS was wandering around looking for the fanatic sort of fan to interview (read "mock"), so he warned us off getting too close. It actually struck us as potentially
hilarious
if JS would try to interview us, because while I am a slightly obsessive fan I'm also non-standard. And Julie was there to keep me company. We didn't go to any of the CMA festival, we spent most of our time in an Irish pub when we hung out on Broadway, and we visited historical sites instead of music ones.
Oh! And there was the nerds, represent! moment! Because of all the buskers to see wandering around that 4-5 block stretch of Broadway (did I mention Nashville is tiny? All the wacky bars end at 8th), we saw THIS: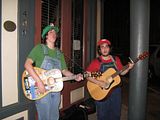 We saw them again on Saturday night and they were letting a toddler play their guitars. Very cute.
Friday
started early with a trip to Andrew Jackson's house,
the Hermitage
, in an attempt to do the hot things before it got too hot.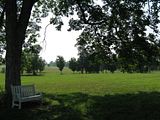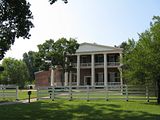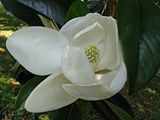 It was one of many places where we saw the lovely magnolia grandiflora that smells so wonderful.
Afterward, we stopped at Panera for lunch and then made our way back to downtown Nashville and spent some time in the
state museum
. It's an old school museum, but a pleasant way to spend a very hot day and the free admission was nice, too. I also liked the textile exhibit. Since I had a glare headache this day, being in a dim museum with climate control was a very good thing.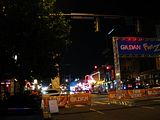 Meanwhile, if this view up Broadway seems strangely deserted, that would be because vast quantities of people had already trooped away from the bar and live music scene and over to LP field where the CMA festival (previously called fan fair) main acts were being held. So the people wandering up and down didn't have tickets, or preferred to drink. We decided to hang out at that Irish pub for the evening, after wolfing down wraps at a Freshii chain, and by curious chance the Phillies game was on so Julie was happily occupied watching that. She had whisky and cider and I had gin and Broadway was much more entertaining after that. We danced a little to some buskers, including one very clever guy doing a rap patter, and sang a little on the way back to the car, and basically were silly.
Oh, and this was the day I bought my father a cowboy hat for father's day (a not too big, crushable stetson that would fit nicely in my carry-on bag), and found a hat I really liked but did not in fact buy despite being encouraged to by the evil enablers in my life. But since I'm far too self conscious to wear a cowboy hat regardless of how flattering because I would feel like a poseur (it says things that I'm not willing to assert about myself, whereas my father can carry off any hat he tries on since he has no shame :P), I resisted until the next day and then the shop was closed when we got back to it. Which is all in all a good thing! Mind you, I could wear it in NYC. But where I live, people don't wear such things ironically, and it really would be making a claim about myself, sooooo no hat.
... I really liked that hat.
Saturday
was a loooong day, and we knew it would be. Because our flights were to leave early Sunday and we decided not to get a hotel just to stay in it for a few hours. In the morning, we went to the
Belle Mead plantation
and had a tour of the house and a tasting at the winery they'd added.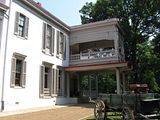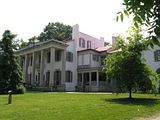 I ended up buying 2 bottles of the Muscadine wine as a souvenir, which required getting a big box, which required checking luggage. That ended up being two very expensive bottles of wine. :P The muscadine actually reminds me of the aroma and sweetness of concord grapes. It's nice, but so very much sweeter than the wines I normally drink. What I liked about it was that it was from
native grapes
. That was interesting enough. So I think of it as a dessert wine that's good over ice. Not at all my typical tipple, but as long as I'm not hung up on the concept of it as wine, it's all good!
I also considered bringing home one of their smoked hams, but I didn't want to check two things, and I didn't want to fuss about a way to pack them together. My desire to bring home a whole ham always gets foiled. When I was a kid and we took the school trip to Colonial Williamsburg, I wanted to bring home a ham and couldn't actually find one.
We had lunch at the least Caribbean Caribbean cafe I've ever tasted, and then went to see the
Belmont mansion
, attached to Belmont College. No pictures inside, but we sat in the little pavilion for a minute and watched them prep for a wedding.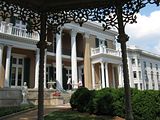 Oh, and I managed to get a good shot of one of the small cicadas I'd been seeing since I'd arrived, both dead and alive.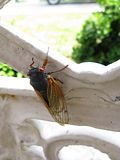 After we finished at the mansion, we went to see Super 8 as a way to keep cool and entertained for more hours. And all I can say is that movie was like being a kid watching every Spielberg movie
ever
. I mean, it was pure nostalgia. We remarked on this at yet another Panera where we consumed an early dinner and then we went back to Broadway to while away the hours until it was time to go to the airport.
Since this was Saturday, there were still major acts at LP Field. We went downtown again, and went up into the observation tower to look around.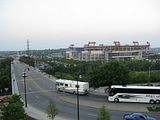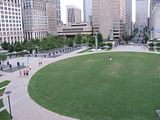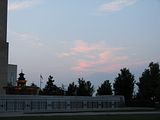 So, the first shot is of LP Field from the observation tower. Imagine that stadium filled to capacity and you'll have an inking what it looked like during a performance instead of before one. The second shot is looking down from the tower on the other side. There were two dogs playing together on that big round green lawn, and we relaxed there for a while before we went back to Broadway. The fountain and sky is a view from the base of the tower.
We wandered back to Broadway, found the hat shop had closed, and wended our way back to the Irish pub. We sat at the bar again and had a few drinks and this time the people around us were more talkative. I'm not sure exactly why, but they were. Then we went back outside and wandered up and down to sober up (it was 3 drinks each, so not hard to do), and managed to catch the fireworks set off for the stadium.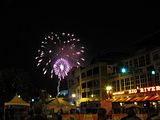 Since it was Saturday and the first day of World Wide Knit in Public "day", I knit at the movie theater, on that big green lawn, in the pub, and walking up and down Broadway, as well as at the airport and on my flight. Someone actually asked to take a picture of me knitting at the pub because it tickled her so much. I'm not sure what she's going to make of that picture when she sobers up. *cough*
Other than the first leg of my flight being delayed almost an hour and leaving me 12 minutes to get to the gate for my connection, it was pretty uneventful. I actually had to go to a different terminal, so I ran. But then I realized I was in Memphis and their airport is tinier than Nashville's (although it has those people conveyors), so I did the rest of it in a brisk walk and got there with something like 10min to spare.
So that was the extent of my Nashville adventure. If I must admit it, it could have been a day shorter with no lack. It's not that there's nothing to do, but that our interests aren't particularly centered there. I felt very much like a fish in the wrong pond for days and wasn't able to use my typical coping mechanism of eating my way through the culture. At the same time, we did a lot of terrific people watching, learned some things that we hadn't known, met some extremely friendly people, and had a fantastic special event. So I'm really happy I was able to take this trip.
Oh, and let's not talk about the cheapass hotel. The staff were really nice and the rooms would have been fine if the first one hadn't been a smoking room with an incredibly loud (but working) air conditioner, and the one they switched us to was a nearly identical non-smoking room with a not at all loud because it didn't work at all air conditioner. But the free wifi was very welcome, the refrigerators useful, and I liked how the soap smelled.
Meanwhile, the car was terrific, and in many ways a really odd security blanket. I don't like not knowing how I'm going to get from place to place, and since parking was easy and not always expensive, the minute I got into the car I relaxed.