I wanted to post something quick because I don't post enough, and I finished this today. Properly, I finished knitting it yesterday, but I blocked it this morning and it was dry in time for a picture before it got dark. The light is a little off, which is why the greens are so
very
green. But the color isn't so bad for all that. It's one 6oz skein of Jackrabbit in the Tidal Pool colorway.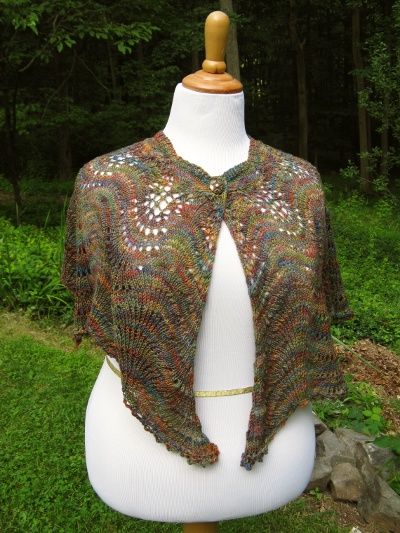 This
was the primary knitting I took to Nashville and really the only thing I worked on while there. I brought another project with me; yes I know it was only a 4 day trip but I always do this and never work on them. It's a thing.
The button is reversible since it's just 2 buttons sewn together like a cufflink and slipped into the first eyelet on either side. It's that hemlock ring modification again, only this time it was worked off a base of 7 repeats instead of 9. I think the shape as a capelet is better for showing off the pattern, although 9 works really well as a scarf.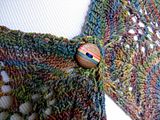 I cast on on the airplane to Nashville and I was on row 37 when I got home. I worked it to row 56, so I got a decent amount done on the trip. I would have been further along but I found a small error and had to rip back several rows to fix it.
But this is about
WWKIP "day"
, which was essentially all last week. It began the 11th and ended the 19th. On June 11th, I was still in Nashville. I had my knitting with me all day and you know what? There is nothing better than a lazy day wandering around with one's knitting. We sat on the grass and I knit. We sat in a bar and I knit. We walked down the street and I knit. We listened to buskers and I knit. We watched fireworks and I knit.
I spent something like 6 hours knitting about as publicly as one human being can, because after all it was during a festival (although not
at
the festival). I know I was noticed and remarked upon because people talked to us about it. And I got to tell them it was World Wide Knit in Public Day. I say that's a job well done.
Knitters Represent!
I've got to go finish updating my shop, but I wanted to ask how was your WWKIP"day"? I'd love to hear your stories, however big or small.