I'm completely off schedule due to the great zombie invasion. But I managed to dye up some yarn yesterday and I'm pretty satisfied with the new offerings. Today and the weekend is all about getting my samples for May's Phatfiber box ready, since I'm a week behind schedule. I'm
also
trying to get 2mos done instead of just one. We'll see how sleep deprived I am by the end of it.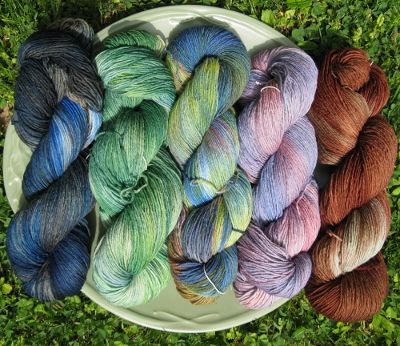 Left to Right: Colonial Day; Kobol; Titania; Peasblossom; Bottom
Given that I have a scarf to finish knitting by Sunday, I'm a little frazzled.
Meanwhile, Etsy appears to be back to functioning. *crosses fingers* It was messed up for days for people in the Northeast US, not even counting how many of the hacks that I rely on being broken. But it appears to be working again. Which means after I get this lot of samples done, I
really
need to get my April yarn up in the shop.