Must be my day to cook. Tonight is one pot couscous again, because I am lazy. This time with dark meat chicken marinated in a very Moroccan blend of seasonings.
And oh yeah! I forgot to say that there's a
giveaway
for some of my stitch markers on the Phatfiber blog. Just comment there and be entered for the drawing. Meanwhile, I'll be having my first giveaway on this blog starting June 1.
Now back to the food. No real measurements! Makes a giant pot (because last time, I missed out on leftovers)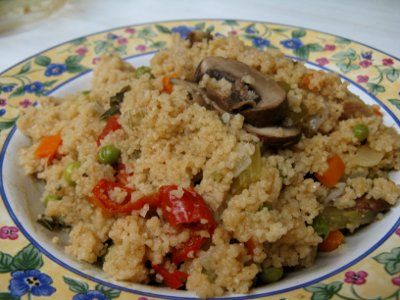 one pot couscous all ends up looking the same....
3 boneless, skinless chicken thighs cut into bite sized pieces, marinating for a couple hours in:
3 cloves garlic, crushed
some orange juice, maybe 1/4-1/3c
some olive oil, a few tablespoons
chopped cilantro, small handful from the garden
chopped mint, three long sprigs (just the leaves)
ground cumin, maybe half a teaspoon
freshly grated nutmeg, maybe 1/4tsp
salt and pepper
Then:
2 onions, chopped
3 carrots, small dice
3 ribs celery, chopped
some peppers, in this case 6 ripe (red) jalepenos that had been frozen, sliced into rings
1-2c sliced mushrooms, crimini in this case
1-2c frozen peas
3c whole wheat couscous
4.25c water
olive oil for the pan
Cook the chicken in some additional olive oil over high heat until cooked but rare. Reserve the meat but leave the juices in the pot.
Add a bit more oil if necessary, and brown the onions (it'll take a bit with the juices making it wet). Turn down the heat to med/high and add the carrots, celery and peppers, and cook until just tender. Taste and adjust the salt at this point.
Return the meat to the pan, with the mushrooms and frozen peas. Cook briefly to get the peas warm, and then add the water and bring to a boil over high heat. Add the couscous, cover and turn off the heat. After 5min fluff and serve. If it's too wet, let it sit uncovered for a bit and the moisture will balance.
Very light, pleasant flavor. I bet preserved lemon would be really good with this. Served it with a side of chopped tomato/avocado salad.
&&&
Meanwhile, back at the knitting, I finished the scarf: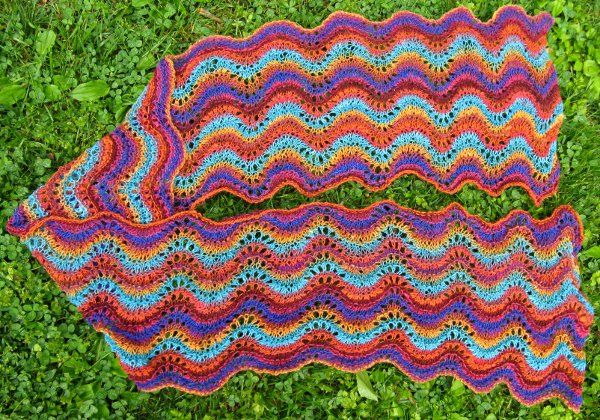 Mom likes it, which is the important thing. And I've told her she actually has to
wear
this one, since she tends to put the stuff I knit her away for a special occasion. The unseasonably cold weather that followed the unseasonably hot weather at least means she might have occasion to do so before next winter.
Finished to about 64in long, which is just right for her. I expect it will stretch with wear, but that's what reblocking is for.