I started a Ravelry group for my shop yesterday.
Light Brown Hare (group)
I've been thinking about it for a while, worried that I would be the only one at the party, as it were. But it seems time with the one year anniversary of the shop coming up fast and the things I have planned with both the shop and this blog.
A lot of the information will overlap with this blog, but I think the format difference will be enough to make both worthwhile in their separate ways. One of the things I'm not used to about this kind of blog format is how difficult it is to have an actual conversation, and the group forums are specifically designed to facilitate conversations. I also don't plan to duplicate the giveaways. So, right now I've opened up the group for an inaugural June giveaway of stitch markers. Anyone who joins the group and comments in
the relevant thread
by June 4th will be added to a random drawing. I'm going to pick 12 people to each receive a widget stitch marker. Meanwhile, the June giveaway on this blog will be a skein of yarn. But I'm waiting for June 1 for that. :)
As an aside, my yarn has been in 3 Etsy Treasuries recently. Treasury East, but still treasuries. I'm never quite sure what to do about them, but it's lovely being included. Apparently Moro appeals! :)
B l o o d Orange
;
Electric Blue
;
We Belong Together
.
Meanwhile, on to the knitting. I finished my Vertex, which I have called Vertiginous, late last night which was really early this morning. But I'm still calling it "yesterday" in my head.
Ravelry project page
It's not blocked yet. Far too hot and humid to wear scarves, let alone block them.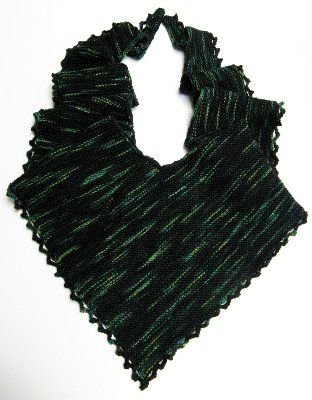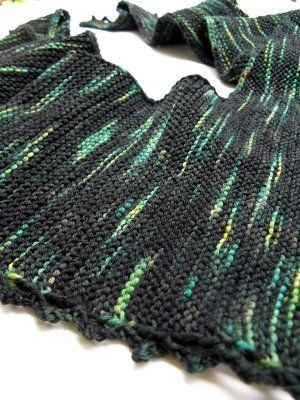 I had 4g of yarn leftover, so I count it a success. It is a very good size despite being considerably smaller than the original. It's certainly substantial enough for a comfortable scarf and if I wrap it so all the points are in front, the narrow ends hang to my waist.
Meanwhile, the color interval was really surprising to me. It barely changed no matter what I did! This next picture has awful color and is terribly overexposed, but it shows the general distribution. Now, I dye for this interval in a very specific way and it's a pretty regular interval that should be usable for deliberate pooling, but there was
no
flashing whatsoever, and I really did expect some.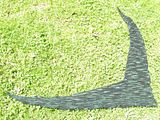 I think the pattern looks better in a striping yarn, to take advantage of the garter stitch. But I do like how it turned out, and the fabric is really lovely and squashy, and the shape of the scarf is very practical as well as unusual and attractive.
I did change up a few things in the construction, although nothing major. Specifically, I changed the finishing once all the increasing was done. I bound off on the 5th row, instead of working the edging after the 7th, and I used a very different edging to save yarn. Exact specifics are on the project page.
I really like how I did the edging, though. I think the picot on the chain that makes it form a point nicely echoes the triangular shape of the piece, even without blocking. The edging was a simple chain 4, and then slip stitch into the bottom of the 3rd chain to create a tiny bump, and then chain 2, and then slip stitch into 4th stitch on the edge of the scarf. Lather, rinse, repeat. I did it twice into the middle point so it would have a centered loop as well.
Meanwhile, the humidity today led me to realize that I really need a pint glass cozy. So I cast on for that this afternoon. A tall glass of iced tea is much more pleasant if it doesn't leave a puddle of condensation behind it! I rummaged about in my Phatfiber samples received over the past few months and found the big 30g upcycled maki sample from
Play at Life Fiber Arts
, pulled out a tape measure and got to figuring. It's a fun and easy little knit.