Weirdest micro dream where I woke up and then went back to sleep for a minute and dreamt that I walked to the door, opened it up and a dragonfly flew into the crook of my neck trying to get past me into the house. One of the big black ones we have that have the spots on their otherwise clear wings. Totally woke me up with a start. I don't usually remember my dreams, so this stands out.
I've been dealing with insomnia lately, which is good for my
progress
in the
Vertex
(
Ravelry pattern page link
) knitalong in the Phatfiber group. I'm making a smaller version with some of my fingering weight Three Hares, trying to make it with just one ball. I really like the shape of this scarf, and I'm intrigued by how the constant row length changes will work out with the dye job.
Last night I didn't just knit. I played with wire, too. I got caught up in wondering how to include my bunny logo somewhere when I go to festivals, especially if a t-shirt is impractical. And, well, this happened. It's coated copper wire which is slightly annoying as the coating flakes off. I might have to try it again with an uncoated and heavier gauge copper. This is 20ga and I also have copper in 18ga. It's pinned to my Vertex in Progress, Taiga colorway, Three Hares yarn.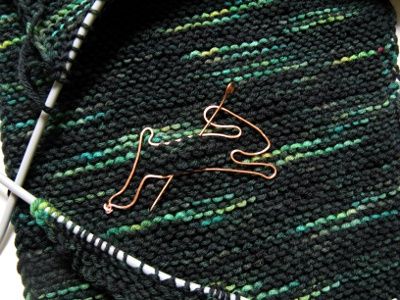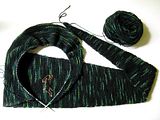 I really like how the Vertex is working out, even smaller than given and with my tension being a little uneven. I worked the first leg to 31.5in long, because I want to have enough yarn to edge it as well. I plan on an edging that uses less yarn than the fringe given, so it should be OK. It's a complete no brainer of a pattern, being garter stitch and a regular rate of increase. Once the rows get some substance to them, they just fly by. Although garter stitch
does
put me to sleep. At least, normally it does. That hasn't been working the last couple days.
I had pulled the yarn because it had a long underplied stretch. I discovered
why
yesterday when I found a knot near it. No doubt it was cone to cone join and not a breakage join, and the end of the cone had come a bit loose. It still knits up perfectly, but it's not something I want to sell since the yarn is already a bit splitty to work.
The fact that it's my favorite color doesn't hurt, and is why it didn't end up in the 2nds pile in the shop annex. I might use this for a sample display at festivals, since I don't have anything else worked up in the yarn. The fact that I get to wear it is a bonus.