Post 2! Oo-er.
So, it's been very chilly for May. As a sort of reaction, I made chili, and beans, and cornbread for dinner. It's my very inauthentic out of the recesses of my brain sort of chili, the beans are just basic black beans with onions and herbs, but I'm basing my cornbread off of
this
cornbread recipe and
this
one.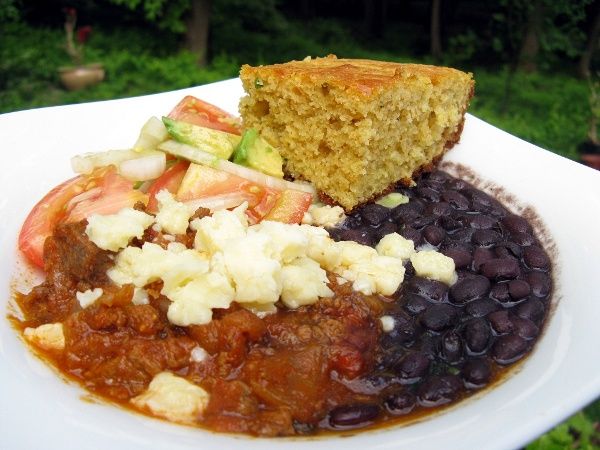 Served everything with a side of tomato/avocado/vidalia onion salad and topped with crumbled extra sharp cheddar. I'm pleased. It's all very tasty indeed. And I didn't have to go shopping for any of it! That's an extra bonus. Recipes below the fold.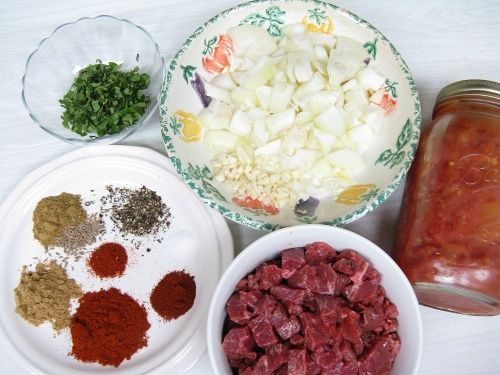 Chili, sort of: totally just winging this.
Beef, small cube. In this case, about 1 1/4 pounds, some of which was coarsely ground and some of which was cut with a knife.
Canned tomatoes, about a quart.
3 cloves garlic, crushed
2 onions, chopped
fresh oregano, a nice handful of the leaves, chopped
1 1/2-2tsp ground cumin, and a couple pinches whole seed because I felt like it (properly all the spices would be toasted in a hot pan and then ground, but I don't have a proper mortar)
1 1/2tsp ground coriander seed
1/4tsp ground cayenne pepper (because I just want a hint of heat and not actual heat)
1tbsp sweet paprika
1/2tsp smoked paprika (it's delicious, but I don't want it too smokey)
salt & pepper to taste
olive oil (if the beef is fatty, brown the beef first and then use the grease to brown the onions. Our beef is ridiculously lean as we grind it ourselves, so it needs the oil)
Add some olive oil to a hot pan and brown the onions, add the beef and garlic and cook until browned, and then add the seasonings to the pan, stir it a bit, and then add the tomatoes and simmer covered but with the lid ajar until the tomatoes have cooked down. 30min or so.
Beans:
1 pound black beans soaked overnight (save the soaking water if you want to try black bean dyeing wool....)
1 onion, chopped
1 bay leaf
garlic (optional - usually I add it, but I decided not to today)
salt, pepper, thyme,
enough water to cover the beans by a scant half an inch
a tbsp of oil
fresh cilantro
- Brown the onions in the oil and then add the beans and everything else including the water. Cover and bring to a boil and then turn it down to medium and keep it at a slow boil until desired consistency. Maybe 45min. Toss in a handful of chopped cilantro before serving.
Cornbread:
3/4 cup all purpose flour (105g)
3/4 cup yellow cornmeal (90g - I have giant eggs, so I used about 1c of cornmeal, closer to 120g)
1tbsp sugar
1/2 teaspoon salt
1 1/2 teaspoons baking powder
1 1/2 teaspoon baking soda
1/2 cup thinly sliced green onions (used 2 stalks)
2 teaspoons minced jalapeño chile with seeds (coarsely chopped 1 whole pepper without seeds)
3/4c yogurt
1/2c milk
2 large eggs
1/4 cup (1/2 stick) unsalted butter, melted, cooled
2tbsp canola oil (instead of veg shortening or more butter, trying to limit the quantity of saturated fat)
Preheat oven to 450°F. Place a cast iron skillet (or chicken fryer in this case) in the oven while preheating so it'll be sizzling hot. Be careful handling the pan!
Mix flour, cornmeal, sugar, salt, baking powder, and baking soda in large bowl. Add the scallions and jalapeño.
Beat together the milk/yogurt and egg in medium bowl to blend, then add in the melted butter. Add this to the dry ingredients and stir just until blended. Then add the canola oil to the hot pan and tilt it to coat before pouring in the batter
Immediately pour the batter into the hot pan where it'll sizzle and start to cook, and then bake the cornbread until it's browned on top and a tester comes out clean. About 18min. Let it cool in the pan for 20min or so before cutting it to let the moisture balance. It's a very moist cornbread and cut too early it's somewhat damp and eggy, but it balances beautifully after cooling in the hot pan for a bit.