I eat it straight out of the pint container when I can get away with it. I don't see the point in wasting time with a bowl.
This means I need an ice cream pint cozy, however. It keeps the ice cream cold longer, and it keeps my hands from getting too chilled. It's perfect for hot weather.
In the last Phatfiber box, I got a lovely bit of handspun: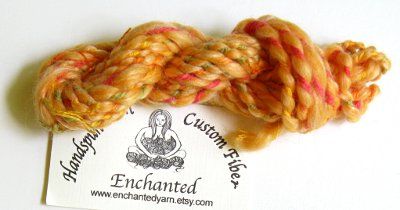 So I decided to make an ice cream pint cozy with it: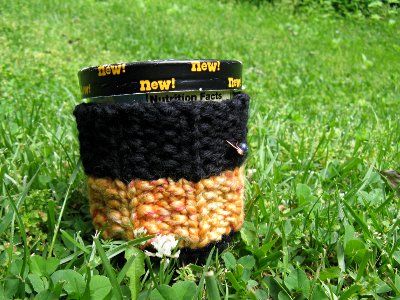 The bottom needs to be 2.75in in diameter and then the sides need to be 3.5in tall before binding off. I held some black yarn (dk weight) double for the base and that took me up to 64st, at which point it was big enough so I worked a turning round and then one more round. Then I switched to the handspun and worked in mistake rib until it ran out. Continued in mistake rib with 3 strands of black yarn (2 strands DK and 1 strand worsted) until it was tall enough measuring from the purl round, and then I worked a sewn bind-off.
So the stitch pattern change (introducing purls makes my gauge looser) and the gauge change in the yarn took care of the circumference change as the piece got taller. I stuck with 6mm needles for the whole thing, although I could have increased needle size for the same result.
The nice thing about the really thick fabric is it has real body to it and is easy to pop on and off without feeling like it's going to flop over. Felting is unnecessary when it's this firm, but it's also not so rigid that it won't stretch to fit the pint.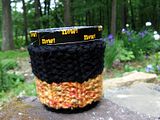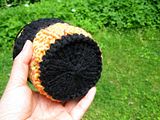 I might have to make more of these. They're also good if one wants to leave the ice cream out for a bit so everyone can serve themselves. I think not being able to see the label once the lid is off is a minor inconvenience easily surmountable.