It's too hot to cook. 90°F in May? You've got to be kidding me. So, I'm grilling the big chunk of leg of lamb. Hot = cooking outside. But curry was suggested, so I'm going with a bit of Indian flair in the seasoning.
I also got some knitting done in anticipation of this ridiculously hot day. Pint glass cozies!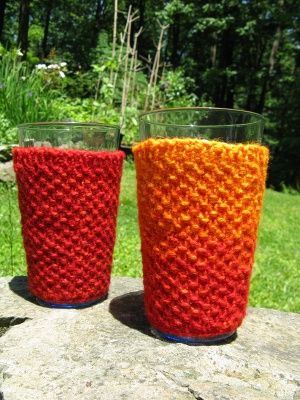 More knitting chatter and the lamb marinade after the jump.
Ravelry project page for all the particulars:
Tequila Sunrise
.
I used a very large sample from March's Phatfiber box. It was a 30g of upcycled worsted weight yarn from
Play at Life Fiber Arts
, one of her color changing makis, colorway Bonfire. This was enough to make 2 and I had 2g of yarn left over.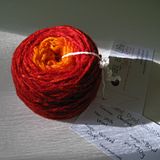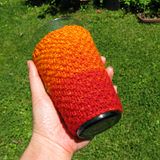 The cozies really work. It's that combination of blocking the surface of the glass, wool's ability to absorb moisture, and its ability to feel dry when it's not that makes the difference. What condensation there is is held against the surface of the glass and doesn't dribble all over the table. Condensation can form on the bottom of the glass when it's being held, but it doesn't really get a chance to get going when it's set down. A very practical alternative to a coaster.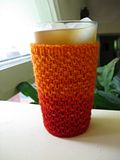 Grilled leg of lamb -
I should have marinated last night, but I didn't know what I was making then!
1/2tsp ground cardamom
1/2tsp ground cumin
black pepper, salt
1/4tsp freshly grated nutmeg
4 (or 5) cloves garlic, crushed
an inch or so of fresh ginger, grated
1/4-1/2c yogurt, however much needed to make enough paste to slather the meat
A big ol' chunk of leg of lamb, the piece I have is almost 3 pounds.
Mix it all up and smear it over the meat and let it sit in the fridge overnight, or for as long as possible up to overnight. I'd make skewers except that I'm far too lazy for that, and sadly mine marinated for only 3hours.
A meat thermometer is critical for me. I can never tell when meat is done. So, heat up the grill (we have a propane grill) so it's nice and very hot (the thermometer on the grill was over 500°F). Scrape most of the marinade off the meat, stick the thermometer into the center from the side and slap the lamb on the grill top down. Let it sear to mark and then turn it right side up and baste it with the marinade. Cover the grill and turn it down to medium (the grill thermometer settled at 350°F) and let it roast until the thermometer reads 130°F for medium/medium rare. About 40min for my not quite 3 pound piece of lamb. Take it off the grill, cover it with foil, and let it rest for 15-20min before slicing for serving (10min for a smaller piece of meat).
Note: Make sure the lamb is
fully
defrosted, because it will not cook properly otherwise. Ask me how I know. :P