It's also Wednesday, which means it's my day to cook so it's going to be a two post day. But before I run off to ready packages for the mail, have a PhatFiber Box!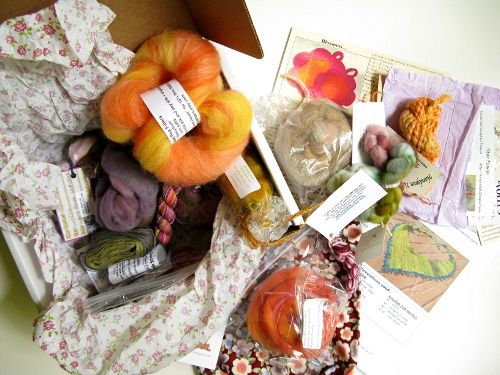 This month's theme was Blossoms and Bark.
More pictures and links within.
Click on the pictures for giant versions. The links are in no particular order.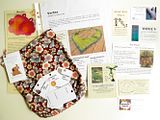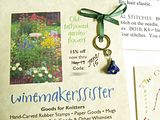 Cards/coupons from:
The Critter Ranch
;
Kira K Designs
;
Wolle's Yarn Creations
;
Blue Mountain Handcrafts
;
Sarah Kate Fibers
.
Winemakers Sister
- a flower stitch marker.
Fiber Gift tags
- tags.
Katherine Vaughan Designs
- Star Flower hair tie pattern.
Garilynn
- Blossoms scrubbie pattern and a great story about learning to dye with pecan hulls on the reverse.
Galia's Spindle Designs
- Vertex scarf pattern.
Ruddawg
- KIP bag.
Yarn: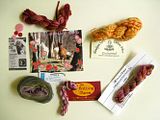 Avalon Springs Farm
- mohair/wool yarn and buttons.
Enchanted Yarn
- handspun silk/wool.
All For Love Of Yarn
- superwash merino, kaleidoscope colorway.
NH Knitting Mama
- superwash wool/cashmere/nylon, Franconia colorway.
Wolle's Yarn Creations
- color changing cotton, lilac blossoms colorway.
Fiber: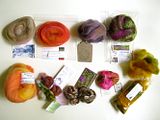 Fiber Fancy
- merino/cheviot/perendale/mohair/llama/alpaca/mulberry silk, pistachio rose colorway.
Smoky Mountain Fibers
- merino roving, zinnias colorway.
Knits In Class Fiber Studio
- rambouillet, lilac colorway.
Silver Sun Alpacas
- sw/falkland/bamboo/angelina/icicle, red wood forest colorway.
Spincerely Yours
- superwash bfl, early beech colorway.
Gale's Art
- tussah silk, cherry blossom colorway.
The Dyeing Arts
- merino/tencel, cherry blossom colorway.
Play at Life Fiber Arts
- superwash merino top, dogwood colorway; and superwash bfl top, sakura colorway.
Sweet Pea Fibers
- corriedale/milk silk/soy silk/angelina, nasturtium colorway.