Of a sort. 100 samples boxed up and ready to send. They may not make it in time for the video this month, but they should be in plenty of time for box day. That's 50 for May and 50 for June.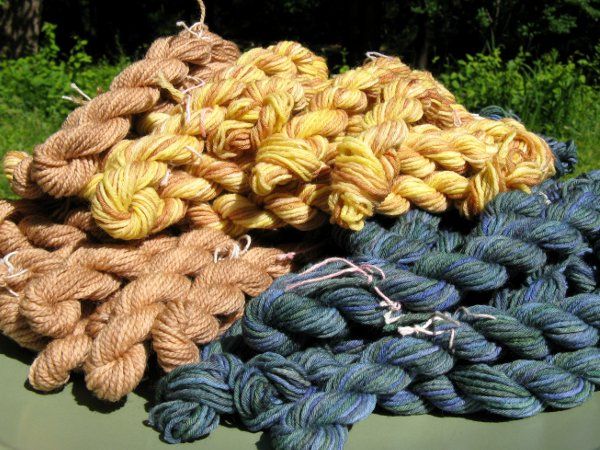 May's miniskein samples: Hickory, Banana Cream Pie, and Common Violet
Normally I do 60 per month, but I didn't like how small the miniskeins were getting. Cutting down the total number per month lets me make them just a little bit more substantial, while cutting down on costs and work overall. My samples are expensive and time consuming to put together. There are 3 skeins of yarn pulled for the miniskeins, as well as part skeins of each of my different bases for the small twists that get attached to the card. Then there's the cards themselves which I print out, spray with sealant, cut in half, and then cut and fold. It's generally 2-3 days of solid work to get it all done.
Not really a fun Mother's Day activity, but Mom wanted to help. :P
I made crepes for dessert in appreciation. Stuffed with strawberries macerated in a bit of sugar and some Grand Marnier, and a bit of sour cream/plain yogurt. Very tasty even if my crepe batter was being cranky.
Of course, I didn't finish the scarf I was knitting, but I can do that tomorrow. Then to get cracking on getting the yarn that those samples represent listed and the new graphics prepared, etc. Busy busy busy, but at least I can forgo the sample rush for June!