I can't even believe it. I'm not sure where September went, but since I'm wearing a shawlette I finished this week, and a sweater and socks, it must be true that it's October.
I was going to give away some fun bling from lovely
Lady Sisyphus
this month, but I'm going to save it for next month when we can all use a bright pick-me-up. Instead, today I'm giving away fiber. I think you'll forgive me for being a day late when I show it to you.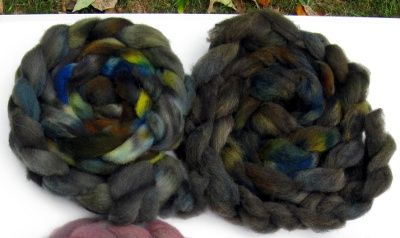 American Silksheep, in my attempt at the Poseidon colorway. Pictured here is white roving and brown top that I wound together and dyed at the same time in the same pot. What I'm giving away here is the top on the right, about 2oz. The
Ravelry group
is getting the roving, and yes, you can enter for both. Here's your chance to try out this wonderful fiber. Hopefully I haven't done any mean, nasty things to it in the dye process. Personally, I want to make a bed out of it. I can't imagine anything more cushiony and cozy.
I've made a few inroads into dyeing the silksheep fiber: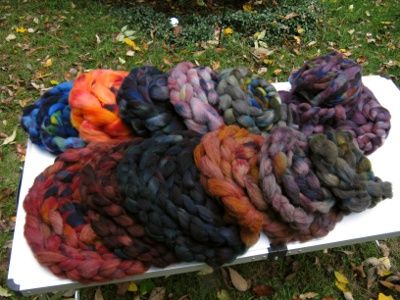 Some of this was pulled into Phatfiber samples. Some of it was divvied up for swap recipients. Some of it I'm giving away here, and some of it is destined for the shop once I dye up some more.
I have my own ideas for colorways (I always do) but I'd like to hear what kinds of colors keep other people awake at night. Sooooo, to enter this giveaway, please comment below with any colorways you'd love to see. Remember, the roving is white but the top is brown! Respond by Thursday, October 7th, and I'll get the random number generator to pick a winner on the 8th. And remember to leave some way to reach you, or come back on the 8th to see if you've won!
Meanwhile, the shop is getting a little bare as I haven't updated in far too long, but I
have
done a few things recently that I wanted to mention. Maker Faire and knitting below the fold. And I promise, I'll update the shop this weekend.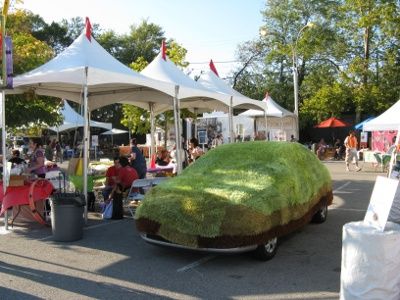 On Sept 25, I dragooned my mother into going to
Maker Faire
with me, in Queens, NY. This picture is of the fun fur "grass" covered car in front of the
TNNA
booth where she taught needlepoint and I taught knitting. And I tried to teach crochet but managed to be resoundingly mediocre at it.
It was
huge
with so much to see and do, and a beautiful day if rather hot. We finished our stint at the booth a little after 4pm and went in search of food and a quick look around. I don't think I would want to vend there. Too many things free with the price of admission, I don't think people were in the mood to shop as much as they want to get their hands dirty trying things. And there was
lots
to try out.
It was fun, and I think if I hadn't been so tired from lack of sleep and getting up early for the long drive we could have done more. And if I had been quicker on the uptake I would have caught a picture of the guy with the fish bicycle. Sadly, I never had my camera ready. It was a big red fish made of gauze over a wire frame on his bicycle, just "swimming" through the crowds of pedestrians. Very surreal and amusing.
Meanwhile, this is the project I started at the TNNA booth between students.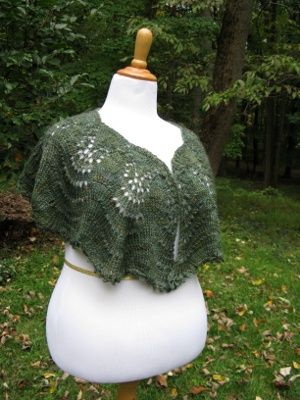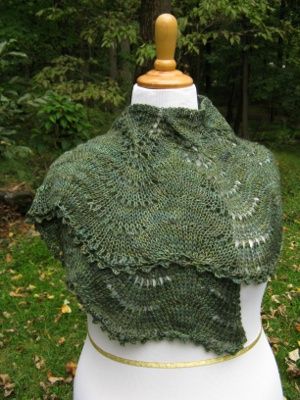 djinnj's Bit of warmth
I'm plastering pictures of this everywhere because I'm so chuffed with it. Do you ever have a project go from start to finish so exactly the way you'd imagined it? That's this project. It's exactly the right size, and the size I anticipated for 300yds of DK weight yarn. It was an easy knit because I had modified the original pattern already for a different project (
A cock to Asclepius
).
I decided on the plan in under an hour and had the pattern notes printed out and ready to go with the yarn wound and the right needles in my bag lickety split. The only problem I had was in binding off. I misjudged and ripped back to work another row and then realized I hadn't misjudged and that I really didn't have enough to finish and so had to rip it back again and redo binding off. On the other hand, the first time I did this I also fixed the symmetry issue I was having with the edging, so it was a net gain.
I
love
it. It's soft and incredibly warm for its size. It feels light and airy for the yarn weight because of the open gauge, the loft of the yarn and its slight halo. The stitch definition is crazy good for something that
has
a halo, and there's also a substantialness to it without heft if that makes any sense at all. Basically, it doesn't feel like it'll come apart if my hands if I accidentally snag it on something. It feels delicate
and
weighty at the same time. It's hard to describe, but this is one of the reasons why I love working up lace in heavier weight yarns.
This is the yarn I dyed up a while back and chattered about on
August 4
, although now I'm calling this colorway Sea King. It's the DK weight version of the laceweight yarn I have currently in the shop. It's beyond gorgeous and hits all my green buttons, I wish you could see it in person.
Of course, if you see me at all this year, I'll probably be wearing it. This piece is for me, and I don't want to take it off!