I haven't posted about food in a while because I became swamped with festival business and then fell into a blue funk. I'm actually still in the blue funk but I'm working on snapping out of that.
In the meantime, one of my two favorite kinds of food needs to happen and I need to make it happen. I like two kinds of food, which may or may not be clear by now; the really simple and delicious, and the really complicated and delicious. Really, I just like delicious food but this falls into the latter category. My cousin is getting married this month. I'm baking the cake. I've had very little notice (which would be why
I
am baking the cake), but that's actually OK. Three weeks is actually plenty of notice given that I don't have a scheduling conflict.
I'm fond of spectacle food as long as I don't have to be too creative with the decorating. I can do the actual baking and such, but I've never really practiced the art of compound moulding or piping or any of the delicate bits that elevate a cake or pastry into a sculptural art form. But damned if I can't make it melt in your mouth.
He and his fiancee are stopping in today to talk cakes so last night I stayed up and baked a test run of the preliminary idea for proof of concept. It allows me to test out how the raspberries in the filling will hold up, and quantities. It's already a good test because I've decided 2 layers is plenty per tier and that the whipped ganache holds up perfectly. It's quite fluid until it sets.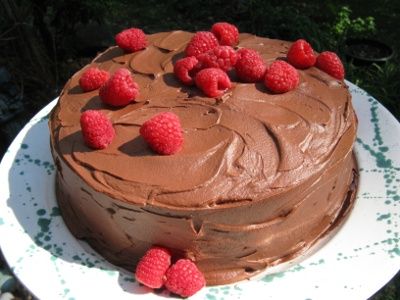 This it the 9in test run, rather haphazardly decorated as I don't have the fondant yet and I wouldn't have used it for a test run anyway. I'm still undecided about raspberries in the filling, and I'm a little concerned that the whipped ganache is too stiff. It's as firm at room temperature as chilled buttercream (and I'm not talking those gritty powdered sugar buttercreams, but a proper buttercream made with whipped egg yolks and a boiling sugar syrup). But I'm used to those silky room temperature buttercreams, so I could be biased. The frosting on this cake is quite literally a whipped truffle, after all. The whole cake
exhales
chocolate. The final cake will most likely be 3 tiers, 6in, 9in, and 12in, and covered in chocolate flavored rolled fondant over the ganache. Recipes for all the components are coming from the Cake Bible, except the fondant. I'm purchasing that as making it from scratch is simply too much work for not enough return.
I've also baked a few wedding cakes in my past. I figured I might as well put up a little gallery. So, after the jump are some Cakes I Have Known.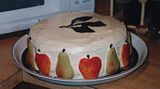 Not the actual wedding cake but served at the reception, this was a spice cake with cognac buttercream and marzipan fruit. I also made a cheesecake for this friend's wedding.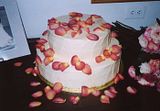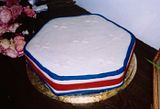 Bride's cake and Groom's cake for another friend's wedding. Bride's cake was chocolate and strawberry, groom's was vanilla and strawberry. I made the fondant this time, which is why I know it's a lot of work.
The last time I made a wedding cake was for a different cousin in 2007.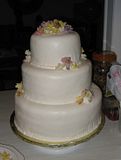 A three tier red velvet cake with cream cheese frosting and white chocolate fondant and edible sugared snapdragons. The day was so very hot and humid that the cake wanted to melt from the condensation beading up on it. I developed the recipe for this cake from a number of other red velvet cake recipes, and tested it out numerous times. I even did a full scale test run to make sure.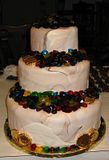 I made all those gummy jewels and the chocolate coins, too, including designing the moulds. I took the test to a book release party, but most of it was thrown out since the bookstore couldn't give it to the patrons. I'm still a little annoyed about that, actually. But after a cake like this has been out in the heat of a breakroom and then a friend's kitchen for something like 36 hours, I wasn't going to try and salvage any of it. Specifically, it was the cream cheese frosting I was worried about. Buttercream can hold at room temp for days, but not cream cheese frosting. It was just as well. After the wedding I didn't want to see red velvet cake again for well over a year.